Wassail is a traditional drink served during the winter holidays, including Christmas, New Year's Eve, and Twelfth Night. It is especially popular in northern European countries, where it originates. It consists of a hot, spiced drink, often alcoholic, that most commonly resembles cider in the modern day. Originally, wassail is believed to have been closer to beer.
This beverage has been served since at least the Middle Ages. Historically, the drink was a mulled ale made with sugar, cinnamon, ginger, and nutmeg and topped with slices of toast. Modern recipes begin with a base of wine, fruit juice, or mulled ale, sometimes with brandy or sherry added. Pieces of winter fruits, such as apples or oranges, are often added to the mix.
Wassail may have its roots in traditions predating the Middle Ages, as the Romans are known to have enjoyed a similar beverage, calda, during the winter celebration of Saturnalia. Many practices associated with Saturnalia, the celebration of the Winter Solstice, have been retained in Christmas celebrations. The practice of wassailing, which eventually became caroling, is believed by some to derive from a pre-Christian ceremony to ensure good crops during the next harvest season. An Apple Wassail is performed to this day in parts of England for this purpose. Twelfth Night, the last night of the Christmas season, which falls on 6 January, is the traditional date for this ceremony.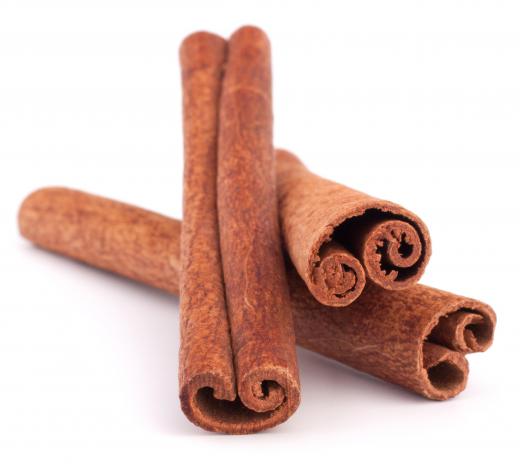 During the Middle Ages, wassailers were peasants who sang at the house of their lord during the winter holidays in exchange for food and drink. This practice has its legacy in door-to-door caroling. Wassail survives not only in the practice of caroling, but also in the words of many carols, such as "Here We Come A-Wassailing."
AS FEATURED ON:
AS FEATURED ON:

By: godfer

Caroling comes from a time when peasant singers were known as wassailers.

By: Natika

Wassail is traditionally flavored with cinnamon and other spices.

By: Thomas Francois

Wassail is commonly spiced with nutmeg.

By: ExQuisine

Modern wassail can be made with wine.