Cardmaking is a craft involving the production of greeting cards, either from scratch or with the use of bases and templates. People of all ages and level of craft skill can practice cardmaking, and it is a popular pastime in some parts of the world, especially during the holiday season, when it is traditional to send cards with seasonal greetings. Many craft stores have supplies for making cards at home, and people can also order supplies through catalogs and online stores.
People interested in this craft may be involved in related crafts like scrapbooking and making small books to bind at home. Cardmaking starts with a piece of cardstock or a base, with the craftsperson creating a miniature project on the card. A simple folding card may just fold in half, while more complex cards can include multiple panels, accordion folds, and other decorative elements. People may paint, collage, decoupage, and use other craft techniques to decorate their cards. Stamping and decorating with colorful papers, photographs, ribbons, stickers, and other ornaments can also be involved.
When making cards, people try to keep them within a standard size for mailing so they will fit into envelopes. Mailing handmade cards can be slightly more expensive, depending on post office policies, as they may exceed weight limits. People concerned about this can use a postal scale to weigh their cards and see if additional postage is needed. Some people also make their own envelopes, allowing them to use cards of any size, although nonstandard envelopes can require an extra handling fee because they create more work for the post office.
Customized cards created during cardmaking sessions may be made with a specific person in mind or can be produced to keep around the house for occasions when cards need to be sent. Thank yous, condolences, invitations, and seasonal greetings are commonly sent out, as some people like to send and receive physical cards rather than exchanging phone calls or greetings on the Internet. A handmade card is sometimes appreciated more than a purchased card, which is a reflection of the effort that went into producing the card.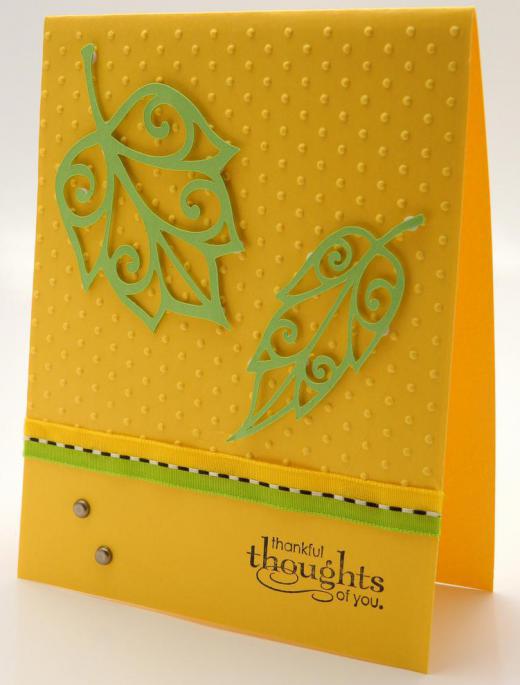 People interested in cardmaking may be able to take classes through a community center in their area, to get familiar with the techniques and learn about common sources of supplies. It's also possible to buy books or look up cardmaking online to find tutorials. November and December are often a good time to find classes, as people are usually gearing up to send out presents for the holidays and craft stores often take advantage of this by providing opportunities to learn about handmade crafts they can give as gifts.
AS FEATURED ON:
AS FEATURED ON:

By: chrisdorney

Post office policies may mean that sending customized card will cost more.

By: bahrialtay

Cards can be made using blank copy paper and just a few other items.

By: Designs by CnC

Making handmade greeting cards can be a fun project.

By: Wissmann Design

Homemade cards don't always have to follow traditional patterns.

By: tomer turjeman

People may include photos as a personal touch when making a card.

By: Shirley Hirst

Stencils can be used to draw different patterns and shapes onto homemade cards.

By: ckellyphoto

Homemade cards can be used to express condolences over a loss.