A drug or substance with antiemetic properties may reduce nausea or vomiting. These medications may be suggested to treat conditions like motion sickness, and to stop extreme vomiting as might occur with flu, food poisoning, or vertigo. Further, they can be employed as adjunct treatment during chemotherapy, long-term use of opioids, or administration of anesthesia. An antiemetic can come from a number of different drug classes, and there are also certain natural substances that produce this effect to lesser or greater degree.
Some of the most powerful antiemetic drugs inhibit the way dopamine works in the brain and many of those are also classified as antipsychotic drugs. Two of the most commonly used of this class are promethazine and prochlorperazine. They tend to be prescribed for short periods only, given their risk of producing serious side effects. Drugs of this type can be effective, stopping symptoms like excessive vomiting very quickly.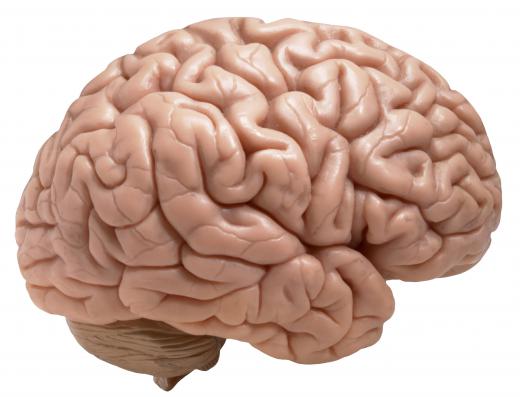 Another class of antiemetics blocks the way the body can access serotonin. The medication ondansetron belongs to this group and is frequently used for excess nausea as created by sudden illness, ongoing use of opioids, or with anesthesia or chemotherapy. It is not as effective in addressing vomiting caused by vertigo and won't stop dizzy sensations.
Additional drug classes that contain antiemetics include antihistamines and some benzodiazepines. These may be prescribed alone or with other medications to address conditions that cause nausea or vomiting. An antihistamine like meclizine may be used for various forms of motion sickness and labyrinthitis. In contrast, benzodiazepines like midazolam could reduce nausea or vomiting caused by anesthesia.
A number of natural substances also have antiemetic properties. Among these is the very controversial substance marijuana or products made from it. Though marijuana, or cannabis, has been proven very effective in nausea control during chemotherapy or with the use of certain opioids, it isn't always legally available. In other regions, patients can obtain the drug or its byproducts through doctor prescription.
Ginger is another natural antiemetic product, lacking the controversy associated with cannabis. Researchers have now found preparations using the root to be quite effective in reducing morning sickness symptoms. Interestingly, it has a similar chemical composition and function to ondansetron. This could make it a good alternative for some people, but it is not likely to be a strong enough antiemetic to work in all situations.
There are many other antiemetic drugs or substances that doctors may recommend. The ultimate goal in suggesting these is to provide the most relief with minimum side effects. Since individuals can respond differently to the numerous drug types, physician suggestions for the most appropriate antiemetic are likely to be varied.


By: ftlaudgirl

People dealing with nausea might be given antiemetic drugs.

By: Tom Wang

An antiemetic drug can be used to reduce vomiting.

By: marksykes

Some of the most powerful antiemetic drugs inhibit the way dopamine works in the brain.

By: pathdoc

Patients suffering from severe vomiting due to food poisoning may benefit from taking an antiemetic.