A toolbox is in itself a useful tool, allowing you to store items in a sturdy and portable compartment. They are usually constructed of tough material and make it easy to keep all your tools at your fingertips. But don't think that toolboxes are reserved for hammers, nails and screwdrivers. These utilitarian items can be useful in a variety of situations, some rather surprising.
You can find a toolbox to fit your needs with few problems. Basic models are usually a heavy plastic or metal box with a handle and a few inner compartments. More advanced versions are usually more specific, with specific places for tools and several layered drawers. Some boxes will even include tools, such as wrench sets and screwdrivers. For the major tool user, there are even tool chests, which can be the size of a standard dresser and are filled with handy drawers for sorting your tools.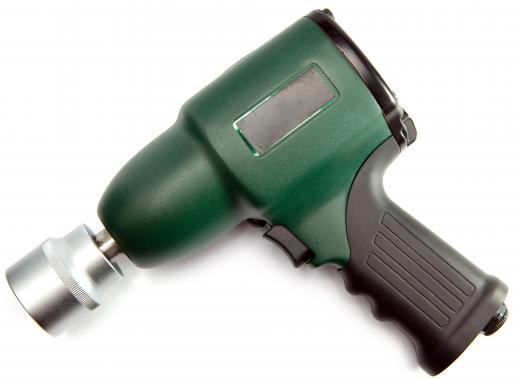 The basic toolbox can be extremely useful as a portable carrier. Thrifty makeup wearers know that, rather than plunk down $40-$80 US dollars (USD) for a "makeup carrier" from a beauty store, head to the hardware store and pick up a durable toolbox for about $20 USD. This can be great for stage actors who need to carry their makeup to and from shows, or to serve as a sturdy travel case for any cosmetic products.
Toolboxes are handy for sewing and craft products as well. If you are a major crafter and usually have several projects going on at once, toolboxes can provide compact and separate storage for each craft. It's easy to keep track of needles and thread, quilting squares, origami materials, or even crayons and markers by storing them safely in a toolbox.
Of course, for the handyman or woman, toolboxes can make a wonderful gift. While the basic toolboxes are inexpensive, you can get as elaborate as you choose to impress your tool-handy friend. For perfectionists, choose a model that not only comes with tools, but has individual slots for each tool, allowing ease of access and neatness. Giving toolboxes can be a great way to encourage or start hobbies and show that you appreciate and support the recipient's enjoyment of building or repair.
Toolbox sets can also be a good gift for new drivers to keep in their car, kids moving away from home for the first time, or anyone moving into a new home. It is a simple and useful present that will probably come in more necessary than the recipient can imagine. In the rush of moving or trying something new, utility can easily be forgotten and quickly be regretted. By buying a basic toolbox and tossing in a few necessary tools, you can really save someone from a future crisis, whether their car breaks down or their basement floods.


By: Schwoab

A flathead screwdriver may be featured in a toolbox.

By: abhbah05

A toolbox may include a cordless drill.

By: Konstantin Kulikov

Mechanics may keep an air wrench in their tool box.

By: michaeljung

Hardware stores often carry basic tool sets.

By: Anthony Maragou

Toolboxes typically hold wrench sets and other equipment.

By: Karen Roach

Every toolbox should have a reliable hammer.