A nutritionist is someone who specializes in the study of nutrition, including nutritional deficiencies, sources of nutrition, and nutritional challenges that may face individuals or communities. The word is thrown about a bit loosely in many parts of the world, which can make it difficult to define. Someone who uses this title may have only taken a few classes in nutrition or may have a PhD or MD in nutritional science.
There are several different aspects of the study of nutrition that interest top nutritionists. Some work directly on the study of nutrients and food, in labs and through field work. They may also make nutritional recommendations for society as a whole, and they focus on learning as much as possible about nutritional requirements and sources of nutrition. Public health nutritionists may work to identify nutritional problems in various communities, and they also provide education and outreach to encourage people to improve their nutritional habits.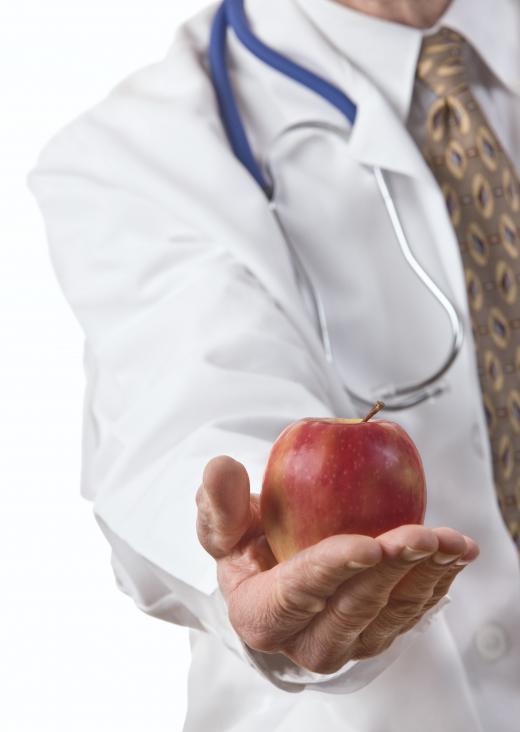 A dietitian provides nutrition-related services directly to patients or clients. The role of a dietitian varies, depending on where he or she practices. Some work in environments like hospitals and school, supervising large-scale food production and ensuring that everyone gets the foods that they need to do well. In other cases, a dietitian may work one-on-one with clients, providing personal advice to help people lose weight, train for sports competitions, or fight diseases like cancer. In this case, the person may be a medical doctor or work with a medical doctor to ensure that all of a client's needs are met.
While certified dietitians traditionally meet with clients in face-to-face sessions, many choose to speak with clients over the internet or phone as well. People who are looking for nutritionist advice but prefer not to attend appointments in person can choose to meet with certified nutritionists online. Online nutritionists typically have the same experience and education as in-person certified nutritionists, so whether someone opts for in-person or online nutritionist advice is merely a matter of preference.
The tasks of a nutritionist can get extremely complex, especially when working with sick patients in an environment like a hospital. He or she may be consulted about the insertion of a feeding tube into a patient who does not appear to be gaining the nutrition that he or she needs, for example, or may evaluate a patient's diet to determine whether or not it needs to be changed for better health. This type of nutritional evaluation usually requires a medical degree, since it requires extensive knowledge of physiology and biology.
For consumers seeking advice, the poorly defined boundaries of what a nutritionist is can be very frustrating. It is a good idea for individuals to ask about qualifications such as education and field study when consulting a nutrition professional, to determine how much that person actually knows. Ideally, people should seek a recommendation from a doctor or another medical professional.
AS FEATURED ON:
AS FEATURED ON:

By: forestpath

Nutritionists concentrate on the study of nutrients.

By: Monkey Business

A dietician provides nutrition advice to individuals, often working in a hospital setting.

By: Africa Studio

Some nutritionist conduct their work in labs.

By: Warren Goldswain

Nutritionists develop healthy eating plans for clients.

By: stocksolutions

Nutritionists can help people find alternative food choices to avoid greasy foods.

By: JorgeAlejandro

Nutritionists may work with inner city children to make sure they are getting healthy meals.