A medi spa is a type of cosmetic business that is supervised by a licensed health care professional. Made up of both day spa and clinical aspects, it typically provides non-surgical services to treat facial, and other cosmetic conditions. A medi spa is also known as a medical or med spa.
Age-reduction treatments make up a large percentage of procedures carried out at many medi spas. These may include laser hair removal, Botox, Juvederm and Restylane injections, photo-facials or skin resurfacing, intense pulsed light (IPL) or flashlamp therapy, medical peel exfoliation, microdermabrasion treatments, fraxel laser procedures and thermage skin tightening. Many of these services must be conducted directly by a licensed physician.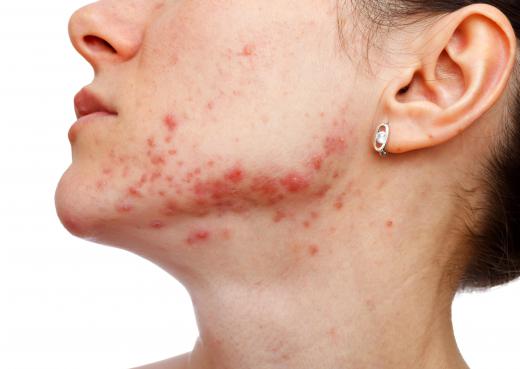 Medical spas can often treat a wide variety of ailments or conditions. Broken capillaries, freckles and age marks, wrinkles, brown spots, facial lines, vascular lesions, and redness are all common conditions that many medi spas treat. Acne, stretch mark, and dark hair removal may also be available. In addition, some common day spa treatments, such as massage and acupuncture, may be offered.
Unlike a typical day spa, a medi spa usually provides a medical environment. The typical rest and relaxation atmosphere a day spa offers may not be present. Many medical spas do offer wellness advisement, however. Naturopathic consultations with doctors could be available, as well as nutritional counseling.
Treatments typically come at a high price, especially if they include lasers or procedures like photo-facials. This is because the equipment for these processes are often costly. Patients seeking such treatments may wish to pay more for the latest technologically advanced equipment and procedures, as they are often less painful, and more effective.
Since medi spa regulations vary by location, potential customers may wish to conduct their own research prior to requesting services. The quality of a medi spa will often depend upon whether the medical professional who oversees the business is a part of daily operations, or participates from a distance. When choosing a medi spa, a patient may wish to consult with the doctor and staff to determine how much experience they have, and what their overall qualifications are.
Cosmetic surgeons may own and operate medical spas along with their practices. One difference between a health practitioner at a medical spa, or a plastic surgeon and a general physician is that the former two may recommend procedures that may be unnecessary. Since a medi spa is a commercial business, patients may wish to rely on their own judgment to make decisions regarding such treatments.


By: Kaarsten

Some medi spas offer Botox® injections.

By: Ocskay Bence

A medical spa might treat acne.

By: Vladimir Sazonov

A medical day spa may offer manicures.

By: Valua Vitaly

Medi spas commonly offer massages.

By: Hannes Eichinger

Medi spas may offer acupuncture treatments.

By: ipag

Botox treatments may be provided at a Medi Spa.