What are the Different Types of Yoga Clothing?
There are many different types of yoga clothing available to make yoga workouts easier and more comfortable. Though it is not necessary to wear specially designed clothing for yoga workouts, many people choose to do so. There is yoga clothing available in men's, women's, and children's styles, and in many different colors and designs.
Yoga clothing is typically made of soft material, generally cotton. Because many practitioners of yoga also care about the environment and natural resources, the clothing is frequently made of organic materials. Clothing made from bamboo is popular as well. Any clothing made from organic cotton or other materials should be marked as such, so if this is a concern, be sure to check before making a purchase.
There are a few different styles of yoga shirts that are popular. Tank tops for yoga are a great choice; these are often designed to be very long, so one can stretch and move freely without the shirt coming up. Yoga tank tops designed for women often have a built-in shelf bra for extra support. T-shirts and long-sleeved shirts do not include built-in bras, but they are also designed to be fairly long and form-fitting.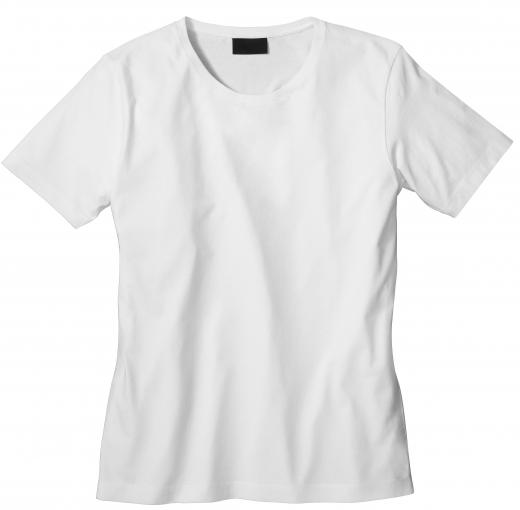 Some people choose to dress in layers while doing yoga, so zip-up sweatshirts are a good choice. These can be easily removed once one gets warmer from doing the exercises. In addition to the tops worn while doing yoga, it is important to choose comfortable pants that allow free movement. Shorts are not very common in yoga clothing, because they are not always entirely practical when doing inversions or other deep stretches.
Yoga pants are generally long, soft pants that are fairly form-fitting. It is often recommended that one wear tighter rather than looser clothes when practicing yoga for two reasons. First, tighter clothing allows the yoga instructor to see the practitioner's body shapes more clearly, and determine if he or she is practicing the posture correctly and safely. Second, tighter clothing is less likely to ride up in different stretches and movements.
Of course, some people choose to wear looser, flowing pants to practice yoga because they feel more comfortable, which is fine as well. It is not necessary to wear socks or sneakers when practicing yoga. One other piece of yoga clothing is a type of socks known as yoga socks; these feature non-slip pads on the bottom of the socks, and may be worn in lieu of using a yoga mat, such as when one is traveling.
AS FEATURED ON:
AS FEATURED ON:

A woman wearing yoga pants and a bra.

By: Kayros Studio

A fitted T-shirt can be a good choice of clothing to wear while practicing yoga.

By: sanneberg

Tank tops are popular for yoga.

By: Dash

A sports bra can be worn during yoga exercises.