What are the Different Types of Workout Tops?
Workout tops are shirts specially designed to be worn during exercise. Generally, these tops are made from breathable, non-irritating fabrics and are constructed to allow the wearer comfort and uninhibited movement. Depending on their style, workout tops may also provide support or enhance the body's ability to manage perspiration and regulate temperature. Popular women's workout tops include sports bras and tanks, while common men's styles include basketball tees and muscle shirts. Other styles, such as short- and long-sleeved T-shirts, can be unisex in design.
Sports bras and tanks are designed to support and restrain a woman's chest during physical activity without causing discomfort or restricting her movement. These workout tops are often made from a blend of polyester and spandex, resulting in a material that is stretchy but also breathes well. Sports bras usually end beneath the chest, while sports tanks cover the midsection. Both types of top often have fairly wide shoulder straps, providing extra support during movement. In many cases, their seaming is flat or hidden, preventing chafing to the upper arms, armpits, and back.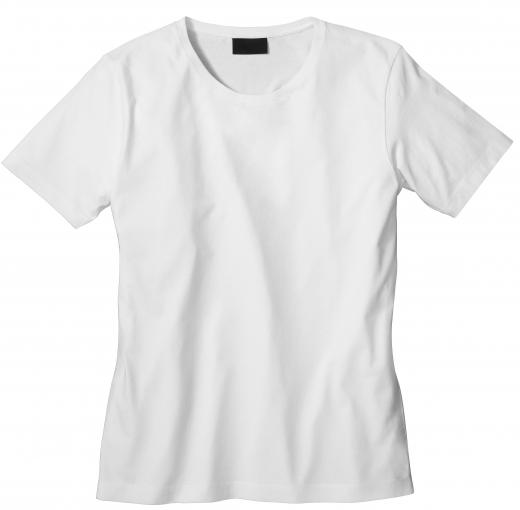 Popular men's workout tops include the muscle shirt and the basketball tee. Both tops are usually sleeveless, allowing the arms to move freely and preventing the buildup of trapped body heat, and are generally made from cotton or a synthetic blend designed for breathability. Muscle shirts are often fairly form-fitting and sometimes have low-cut armholes, allowing weights to be lifted and lowered without becoming caught on a loose T-shirt end. This cut also allows body builders to show off their progress by displaying the arms. Basketball tees are usually looser in fit and may simply resemble a T-shirt with its sleeves removed.
Some workout tops, like short- and long-sleeved T-shirts, are more or less unisex in design. Apart from simply covering the body, these tops are often intended to improve the exerciser's performance and comfort by enhancing his body's ability to regulate its temperature. This function is usually achieved through the use of special fabrics that draw perspiration away from the skin to the exterior of the garment, where it can then evaporate. In hot weather, trapped perspiration can cause the body to overheat, potentially causing heatstroke, while in cold weather it can quickly cool off, leading the body temperature to plummet dangerously. Thus these workout tops are a good choice for exercise in both hot and cold conditions.
AS FEATURED ON:
AS FEATURED ON:

By: Kayros Studio

A fitted T-shirt can be a good choice of clothing to wear while working out.

By: Poulsons Photography

Sports bras should be stretchy but comfortable when worn during workouts.

By: Syda Productions

A form-fitting long-sleeved top offers comfort during workouts.

By: Tijana

Tank tops are comfortable and keep the body cool during weight training.

By: michaeljung

Sports bras usually end beneath the chest.