What are the Different Anxiety Disorders?
Anxiety disorders, also called panic disorders, are broadly defined as irrational fears of situations or particular objects marked by an intense physically or mentally debilitating response. Anxiety disorders often co-exist with other disorders, such as depression, mood disorders and drug or alcohol addiction. Anxiety disorders are considered maladaptive, which means that as far as we can tell, they serve no purpose as a survival or defense mechanism. The American Psychological Association (APA) recognizes seven anxiety disorders: generalized anxiety disorder, panic disorder, agoraphobia, obsessive compulsive disorder, post traumatic stress syndrome, social phobic disorder and specific phobic disorder.
Generalized anxiety disorder is defined as excessive worrying about any number of things. A tongue in cheek attribute of people with generalized anxiety disorder is that they excessively worry about not having anything to worry about. Any situation, event, thought, word or object can produce anxiety. The symptoms of generalized anxiety disorder include a feeling of being on edge, tense muscles, difficulty sleeping, an inability to focus, irritability and fatigue.
Panic disorder is similar to generalized anxiety disorder, except that a panic episode is more intense and brief than episodes experienced by generalized anxiety disorder sufferers. Panic disorder is characterized by abrupt panic attacks that last under an hour. Panic attacks are a false activation of the 'fight or flight' response, which is the body's natural physical reaction to fear. A person suffering from a panic attack will experience real physical symptoms of increased heart rate, numbness in the arms and legs and difficulty breathing. Often, people who suffer from panic attacks believe that they are having a heart attack.
Agoraphobia, another one of the anxiety disorders, can co-exist with panic disorder. An agoraphobic person fears travel in cars, buses, trains or planes, and fears public places or particular situations. The severity of agoraphobia varies among individual sufferers, but it can become very debilitating. Sometimes, agoraphobia can become so severe that a person will refuse to leave his or her home. Sufferers of agoraphobia generally fear that they will have a panic disorder or become ill in public and begin to eliminate any and all activities that they believe might provoke a panic attack.
Obsessive compulsive disorder (OCD) is one of the anxiety disorders that incorporates anxiety with behavioral components. OCD is characterized by unwanted, uncontrollable thoughts that persistently recur, which are termed obsessions. These obsessions are accompanied by irrational behaviors, which are called compulsions. A person with OCD tries to negate or control his or her obsessive thoughts with compulsive behaviors such as frequent hand washing, turning lights on and off, repeating a specific word a certain number of times, ordering, organizing and so on. OCD often occurs along with other forms of anxiety disorders, especially generalized anxiety and panic disorder.
Post traumatic stress disorder (PTSD) is an anxiety disorder that is caused by a traumatic event in a person's life, such as witnessing a terrible accident, natural disaster, abuse or war. A person with PTSD frequently re-experiences the traumatic event, which induces fear and anxiety. This can lead to avoidance of situations, panic attacks, general uneasiness, depression and withdrawal.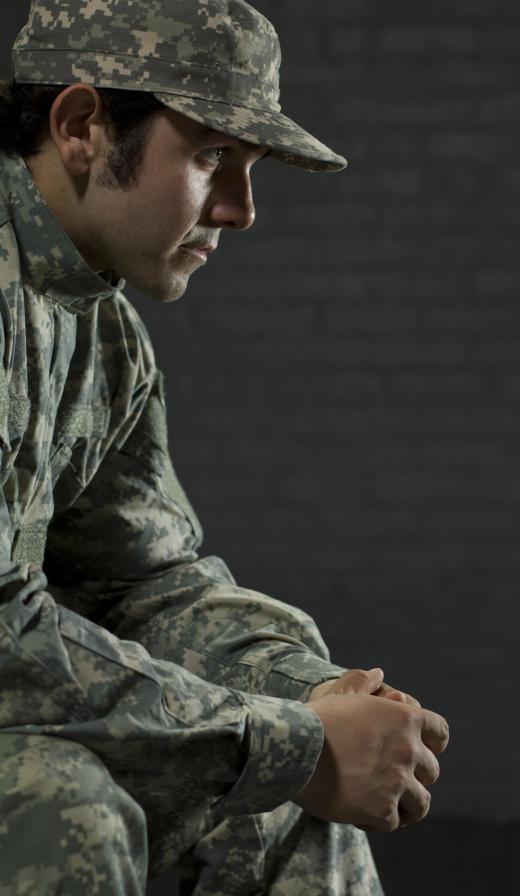 Social phobia and specific phobia are two closely related anxiety disorders that invoke intense fear. Social phobia is characterized by an irrational fear of social situations and interactions with other people. Usually, a person with social phobia is disproportionately afraid of how he or she will act in the company of others. Those with social phobia suffer from a fear of embarrassing or humiliating themselves, rather than a fear of other people causing them harm.
Specific phobia is marked by an exaggerated fear of animals or objects. A person with specific phobia might be horrified by a spider, a dog or a bird, or may be frightened by heights, water or the dark. Although many people are uneasy about specific objects or become nervous around other people, true phobias are debilitating to the point of affecting a person's quality of life and ability to perform daily activities.


By: AndG

Some people are horrified by spiders.

By: David Stuart

Generalized anxiety is characterized by excessive worrying.

By: blanche

Panic disorder is characterized by abrupt panic attacks that last under an hour.

By: Innovated Captures

Someone with an anxiety disorder may have difficulties getting out of bed or falling asleep.

By: Andrew Lever

A person with a panic disorder usually experiences brief episodes of intense anxiety called panic attacks.

By: Marijus

Disorientation can occur suddenly in someone who is dealing with a high amount of anxiety.

By: Burlingham

PTSD is an anxiety disorder that many soldiers face following a tour of duty.

By: gemenacom

Social anxiety disorder causes people to feel uncomfortable in public situations.

By: xalanx

Watching TV is one way people might try and reduce anxiety.

By: Phase4Photography

Obsessive compulsive disorder (OCD) and anxiety are often linked in some way.

By: Artem Furman

Anxiety disorders often co-exist with depression and other disorders.

By: Carsten Reisinger

A fear of riding in elevators may be a specific phobia or a symptom of agoraphobia.

By: Sergey Mostovoy

The fear of heights is a common phobia.

By: Photographee.eu

Repetitive hand washing may be a sign of OCD.

By: byheaven

Deep breathing can help people relax in stressful situations.

By: Gelpi

A debilitating fear of dogs is a phobia, which is considered an anxiety disorder.

By: rimmdream

Anxiety disorders may interfere with test taking capabilities.

By: Alexander Raths

A doctor can prescribe medication and deliver psychological therapy for anxiety disorders if necessary.

By: belahoche

A person with social anxiety may feel uncomfortable in an intimate group setting.