Teeth implants are a type of false teeth which mount to posts that are surgically implanted in the jaw bone by a periodontist or oral surgeon. They are among the many choices for replacement of missing teeth including bridges and dentures which a dentist may discuss with patients. Teeth implants are a popular option because they are more stable than other methods of replacing missing teeth, allowing the patient to use them just like normal teeth. Although the complete implant process from start to finish can take several months, many patients are pleased with the results.
Teeth implants can be customized and made from a variety of materials, although the basic implant has a titanium base with a porcelain false tooth that attaches to it. The false tooth can also be made from a variety of metals, including gold. With proper care, teeth implants will last through the life of the patient, and they also tend to be more comfortable than dentures or bridges. Especially for patients missing only one or two teeth, teeth implants are an excellent option to restore a smile.
Teeth implants start with the dental implant itself, which is usually made of titanium. The implant is screwed into the jawbone by a surgeon, and left alone for several months so that bone can grow over the implant, turning it into a solid anchor for the false tooth that will be mounted on it. During this period, a conventional dental bridge or denture can be padded and worn over the implants so that the patient will have a set of teeth to use. After the jawbone and gums have healed, false teeth are custom made for the patient and screwed or cemented onto the dental implant.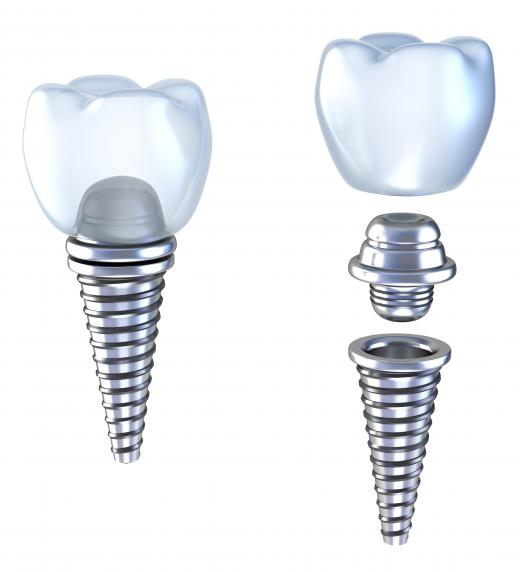 Like other types of cosmetic dentistry, teeth implants are not suitable for all patients. Patients who have lost teeth due to gum disease, or who have weakened jawbones, are not good candidates for teeth implants as the implants may fail to anchor properly. Because teeth implants are like normal teeth, they also require meticulous dental hygiene and a willingness for multiple repeat visits to test fit and general oral health. If a dentist feels that a patient is a suitable candidate for implants, he or she will go over the procedure along with other options for replacement of missing teeth.
AS FEATURED ON:
AS FEATURED ON:

By: Andrea Danti

A cross section of a tooth.

By: Alexandr Mitiuc

An illustration of a dental implant with a titanium abutment.

By: Subbotina Anna

Dental implants can brighten and improve a person's smile.