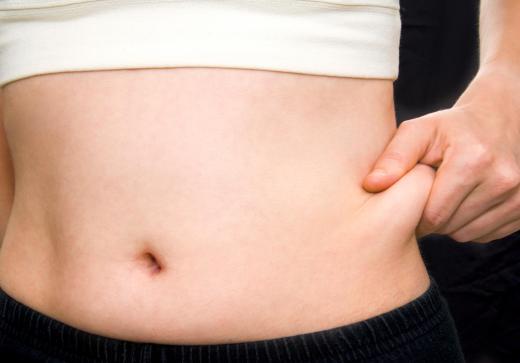 Over the years, many different styles of jeans have been popular, from tapered leg to flared, low-rise to high-waist, and everything in between. Mom jeans is a style that is rather unfashionable but a popular pants choice for its convenience and comfort. Named for the over-40, soccer mom type of woman who stereotypically wears them, mom jeans have a high waist, often with an elastic waistband and pleats in the front, and are a solid light blue in color.
After having a child, many women develop a larger lower belly. Wearing low-rise or even mid-rise jeans with extra belly fat can lead to a muffin top appearance, where excess fat spills over the waistband of the jeans as a baked muffin extends over the top of the pan. Mom jeans typically cover the belly up to the navel, hiding this problem area. An elastic waistband can also help to disguise lower belly fat, as well as fat that lies around the belly button. Front pleats are available on some mom jeans, further disguising a belly pooch, but also adding to the pants' unfashionable appearance.
Unlike the high-waist jeans popular in the 1980s, mom jeans are not tight fitting. These pants have a fuller cut from the navel down to below the buttocks. The fit is not as loose as that of baggy jeans, but it also definitely does not conform to the body's natural curves. The result is a look that is unflattering and gives many wearers' bottoms a flat appearance.
These pants do generally fit more tightly toward the feet, however, as they have tapered legs. The visual effect created by the looser cut at the top of mom jeans and the tighter fit at the bottom is that of an upside-down triangle. This appearance is typically not flattering for any woman who is not very thin. Women of average size or larger may find a slightly flared or boot-cut leg more appropriate.
Mom jeans generally do not have any depth of color, which can be achieved by stone-washing or whisking the pants when the denim is dyed. Instead, a solid, faded light blue color is typical of this style of pants. This monochrome color can give a uniform-like appearance to the jeans, limiting the choices of shirts that will look nice with them. Light blue shirts in particular may emphasize the uniform appearance.


By: VRD

Mom jeans can be worn to cover up excess belly fat.

By: Barabas Attila

Wearing low or mid rise jeans or pants can exaggerate the appearance of belly fat.

By: photo25th

Certain types of undergarments can be worn to lend a sleek appearance to a flabby stomach.