Baggy jeans are not jeans that do not fit appropriately, but rather a fashion choice related to a number of different jean-wearing groups. This type of jeans comes in many different colors and can be made for both genders. While many people think of baggy jeans as those that sag below boxer shorts and are worn by men, there are actually a number of other styles that can be thought of as baggy. As such, this type of jeans is not easily definable and should be thought of primarily as way in which pants may fit rather than a certain style.
Some of the most popular baggy jeans are associated with rap and hip hop styles and are worn only by men. These pants usually hang around the buttocks of men and display boxer shorts. This style of clothing is highly stigmatized in some areas and is therefore not advisable for professional ventures. Some schools even forbid students to wear baggy jeans of this type.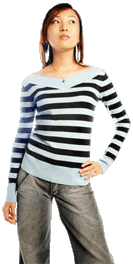 Many women wear jeans that are baggy simply for comfort reasons or as part of various slouchy styles. Boyfriend jeans, for example, could be thought of as baggy. This relaxed fit is often out of style, but pants that are fitted in the waist but baggy in the legs are usually considered more acceptable than those that are baggy everywhere. It is important to recognize that wide-legged jeans are not necessarily baggy, as this term implies a kind of looseness that stiff wide-legged jeans may not possess.
Men much more commonly wear baggy jeans than women, and these jeans may be either practical or fashionable. Any men's jeans that are not fitted can be considered baggy, but painter's jeans and various styles worn slightly too large are most common. Usually, fabric that is somehow distressed is particularly appropriate for baggy jeans because the fabric bunches and bends around the body.
Men's jeans in this style often have much wider legs than women's versions, leading to a much roomier fit. This can be convenient when doing work that requires bending and stretching. Many men also find this style more comfortable than tight jeans. Baggy styles are very popular for men and have a long history of being considered fashionable.
Baggy jeans come in many different colors and cuts, and plain denim shades are common. These jeans may be worn with a variety of accessories, although belts and chains are very common. Embroidery and printed designs are also sometimes found on these kinds of pants, particularly those of the sagging type. With so many variations, the only factor that unites all these different kinds of jeans is that they fit in a way that can be considered baggy.
AS FEATURED ON:
AS FEATURED ON:

Woman with hand on her hip