What are Carpet Remnants?
Carpet remnants are less elegantly titled as left over carpet. When a person orders carpeting, some of the roll of the carpet ordered may remain, but it usually isn't enough to fully carpet another person's home. What usually occurs when there is sufficient leftover carpet is that this material is sold as carpet remnants, at a reduced price. There are many reasons why you might want to look for remnants, and lots of uses they can have.
You can take some remnants and have them bound around the edges to produce elegant area rugs, or remnants can be perfectly sized for things like hall runners. You do need to have any remnants bound, or they will start to deteriorate. If you like a specific style of rug but don't care for wall to wall carpeting, it makes sense to check available carpet remnants to see if any will suit your needs. Sometimes you can find terrific varieties, and other times there isn't much available.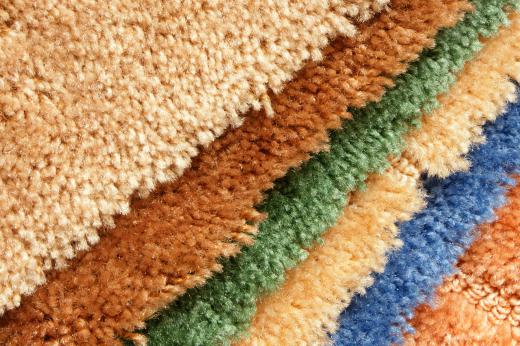 Another thing that many people can use carpet remnants for is to carpet a single room. If you have a relatively small room that you'd like to install carpeting in, you may be able to find remnants that are large enough to accommodate these needs. When you use a carpet remnant instead of carpeting on a roll, you can save a lot of money. You may be able to purchase much higher quality carpet within your budget, or keep your purchase amount low. If you're handy, you can even install the remnant yourself.
Many people have some pieces of leftover carpet after they've had a home or room carpeted. It's a good idea to hold onto some of these pieces. If you ever have damage to an area of your carpet, you may be able to use these pieces as a way to patch damaged areas and still keep your carpeting. While you should save some carpet remnants, you could take a few pieces and have them bound to protect high traffic areas of carpet.
There are numerous stores that specialize in purchasing carpet remnants and selling them to consumers. It's a good idea to check prices and compare them to stores that just sell and install new carpet. When you have a store devoted to reselling remnants, there may be some markup in price. A store that doesn't acquire the remnant elsewhere can sometimes offer you a lower price, though this varies.
AS FEATURED ON:
AS FEATURED ON:

By: Popova Olga

Frieze carpet remnants.

By: karam miri

Carpet remnants can be bound to create nice area rugs.

By: Greg Pickens

One reason that many people use carpet remnants is to carpet a single room.

By: maigi

Carpet remnants are sold at a reduced price.