How do I Choose the Best Carpet Quality?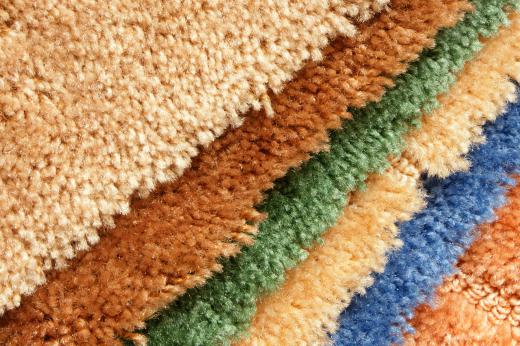 When it comes to the task of selecting carpeting for your home, it is important to choose the best quality product for the space where the carpet will be installed. With so many different types of rugs and wall to wall carpet options on the market today, knowing what to buy can sometimes be difficult. Here are a few basic tips to keep in mind as you look for the carpet quality and style that is right for your needs.
One of the first issues to address with carpet quality is the type of fiber or fibers used to create the carpeting. Carpet fibers are both natural and synthetic. In general, high traffic areas will require the use of some synthetic that will stand up to a lot of wear and tear without collapsing the pile or retaining dirt and stains. Olefin is a serviceable choice, and relatively inexpensive, and may be ideal for areas such as hallways or dens.
Along with the choice of fibers, you also want to determine the pile you need for the area. Indoor/outdoor carpeting has a very low pile, making it easy to clean and much less likely to show wear and tear. The stain-resistant qualities of this type of floor covering make it ideal for use in kitchens and bathrooms as well as use on a lanai or by a pool. Here, you want to make sure the carpet quality is such that direct sunlight will not fade the fiber, and that it will not melt or burn when subjected to heat.
For other interior areas, you may find that a thicker and higher pile is more to your liking. Loop designs for the carpeting are often considered excellent choices for bedrooms or living rooms. The pile is usually thick and allows the feet to sink into the carpet facing, a pleasant feeling at the end of a long day. When composed of the right blend of synthetic and natural fibers, the overall carpet quality of looped pile will allow the carpeting to hold up well for many years, retain color properly, and require nothing more than routine vacuuming and the occasional steam cleaning to look new.
In some cases, the use of rugs instead of wall to wall carpeting may be preferable. This is especially true in rooms with beautifully finished hardwood floors. When looking at rugs, make sure the carpet quality is such that there are not loose strings on the binding around the edges and no small gaps in the weave across the surface. Low quality products often take short cuts that leave a small gap or do not secure the binding properly. While these rugs will cost less, they will not wear well at all, even if composed of stain resistant synthetic fiber. Spend a little more and buy a rug with solid binding and no gaps, and the rug will last for many years.
Only buy carpet at retail outlets that have a reputation for selling products with high carpet quality. Beware of discounted carpet sales, as these may include some products that are of lesser quality. In any event, inspect anything you find at a carpet store or home-furnishing store closely before making a purchase. This will help to ensure you will enjoy your new carpeting for a long time, with no worries about the product looking discolored or tired after a few years.


By: Popova Olga

Frieze carpeting.

By: Ernest Prim

Routine steam carpet cleaning may help carpets look new.

By: Greg Pickens

Carpet made of olefin is often a good choice, and relatively inexpensive.

By: maigi

Carpets with a low pile are best to use in areas with high foot traffic because they show less wear and tear.

By: Iriana Shiyan

Stain-resistant outdoor rugs are sometimes a good choice for patios and porches.

By: Wollwerth Imagery

Indoor/outdoor carpet may be featured in a sun room.

By: Jodie Johnson

Saxony carpet, a type of cut pile carpet, should be used in high traffic areas of a home.