Apple chips are quite simply dried apple slices. They are usually round, having been sliced horizontally from a cored apple. Apple chips can be purchased pre-made or they can be made at home in an oven or a food dehydrator.
Some apple chips are quite crispy, much like a chip. Others, which still retain a bit of the original moisture from the fruit, are less brittle and more chewy. The texture of the chip depends on the method by which it was dried and how long it was left in the oven or food dehydrator.
People who like apples usually like apple chips. They can be eaten alone or chopped up and added to cereal, granola, trail mix, or salads. Some people like to enjoy the crispy variety of apple chips as an alternative to potato chips. Although the chips made from apples have a similar crunch, they have much less fat and sodium and are therefore a healthy alternative. In fact, many varieties are completely fat free.
This is a great snack to give to kids who are picky eaters and turn their noses up at fruits and vegetables. Apple chips look similar to other sorts of chips and also have a sweet flavor, but are also a good source of vitamin C. Some of them even come in a few flavors such as cinnamon. In addition to using these snacks to entice kids to enjoy fruits, they can also be used to improve the diet and eating habits of adults who aren't as good as they should be about consuming fruits and vegetables.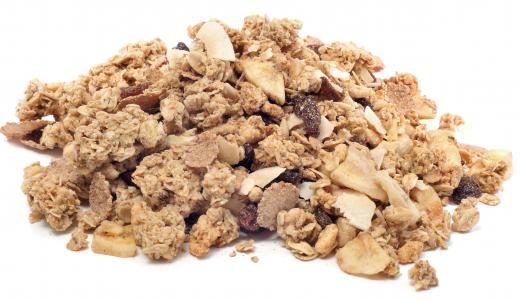 There are a number of companies that sell packaged fruit chips. In addition to being able to choose between a few different flavors of chips, there is also a variety in the kinds of apples that are used. Some are made from Fuji apples, others from the red delicious variety, and others still made from Granny Smith variety. No matter what the flavor or the kind of apple, these chips are usually more expensive than potato chips.
A great way to enjoy apple chips is to make them at home. It is best to make them in the fall during the harvest season when you can purchase apples locally and the prices are low. Simply follow the instructions on your food dehydrator or find a recipe for making the chips in your oven. The chips can be kept for months if they are stored correctly.


Some apple chips are made from Fuji apples.

By: denphumi

Red Delicious apple chips tend to be slightly sweeter than some other varieties.

By: nito

Apple chips are often added to granola.

By: anjelagr

Apple chips are a healthier alternative to starchy potato chips that are cooked in fat.