Almond cookies are typically any kind of cookies made using almonds or almond flavoring, often through the addition of crushed almonds or almond extract. Some recipes will also call for the use of almond paste to flavor such cookies, and further almond flavoring can sometimes be provided by almond slivers. There are many different types of almond cookies that can be made, with popular types including Florentines, macaroons, and almond butter cookies often shaped into crescents.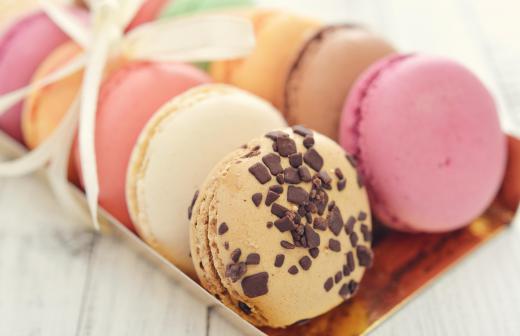 Many different types of cookies can be prepared as almond cookies, and there are a number of different ways of adding almond flavoring to such cookies. These include the use of almond extract or oil, almond paste, ground almonds, and slivered almonds either in the recipe or on top. Almond flour can also be used, which is quite similar to ground almonds, though it is extremely fine in texture. There are a number of standard cookie recipes that can be prepared as almond cookies by using almond flour, rather than wheat flour, and this can be an excellent substitution for anyone who has a food allergy to gluten.
One of the most common types of almond cookies are Florentines, which are cookies typically prepared with slivered almonds. These cookies are usually quite sweet and are made on a baking sheet, producing flat and lacy cookies. The dough for these cookies often includes slivered almonds, though sometimes the almonds are simply added to the tops of the cookies prior to baking.
Macaroons are popular types of almond cookies that can be similar to meringue, or more like small cakes, depending on how they are prepared. One traditional type of macaroon is prepared with beaten egg whites, much like a meringue, to which almond paste is added. There are also macaroons that are more like Italian amaretto cookies, which use almond paste as well.
Almond butter cookies, often called almond crescents due to the shape they are commonly made in, are popular cookies often served with tea or after dinner. These almond cookies usually use ground almonds or almond flour, though some recipes may call for almond extract for a more intense flavor as well. They are usually spooned onto a baking sheet in a crescent shape, and may be dusted with powdered sugar after baking.


By: Elenathewise

Shelled and whole almonds.

By: tashka2000

Macaroons are a popular almond cookie.