Meringue is whipped egg whites often combined with sugar that can be either baked, as a topping on pies, or as cookies or shells for specific desserts. Unbaked meringue is used to fluff up popular dessert favorites like chocolate mousse.
Making unbaked meringue is a simple process when one has an electric or stand mixer. When whipping egg whites by hand, the process is more labor intensive and may require both arm strength and patience. Many cooking experts recommend using a copper bowl for hand whipping, as copper ions tend to migrate into the mix and form a stiffer meringue that is more difficult to deflate.
Depending upon the recipe, meringue may be beaten into soft peaks, or into hard peaks. Generally the stiffer whites are used for recipes requiring them to be baked. When it is baked to hardness, this also requires time in a low temperature oven.
When baked on pies, meringue is supposed to maintain some of its softness. For cookies, it is usually baked for an hour or half or more in a 250°F (121°C) oven to thoroughly dry out the inside so the cookie or tart shell will be crunchy.
Meringue is also susceptible to softening quickly in humid conditions. The outside may remain hard but the inside becomes chewy. Some people enjoy cookies of this type, but hard cookies tend to require preparation in dry conditions or weather.
Cookies can be flavored and are a popular choice as a low fat treat. Since they contain no flour, they are relatively low carb, and since they have only egg whites they are significantly low in fat. However, the amount of sugar added tends to offset the benefits. They are a better choice for the occasional treat for dieters than a traditional cookie with a shortening or butter base.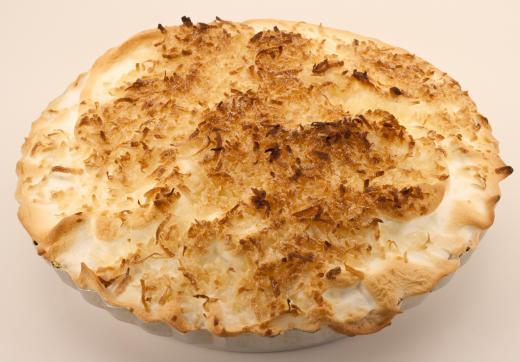 Italian meringue cookies often have the addition of almonds or hazelnuts and frequently are made in chocolate, vanilla, or lemon flavors. These can be found in the US in Italian American bakeries. They are less sweet than those one might find at a typical bakery, or at grocery stores. They also tend to be harder and store better.
Sometimes a meringue shell may be baked and filled with ice cream. This is typically called meringue glacée. Most cooking experts recommend that shells be filled at the last minute, when possible, as this will keep them crunchy. A tart filled with Italian Cream or custard can also be tantalizing, but also should be filled just prior to serving.
Some are concerned about using meringue in uncooked form, as this may expose one to salmonella. One can whip the egg whites in a bowl set in a bath of hot water, which heats them and tends to cut down on this risk. As well, additions like hot melted chocolate will cook the egg whites and eliminate risk of accidental food poisoning.
AS FEATURED ON:
AS FEATURED ON:

By: andriigorulko

To make meringue the york and white of eggs must be carefully separated.

By: nanjan

Meringue is often used as a topper on pies.

By: pilipphoto

Unbaked merginue can be used to fluff up a dessert mousse.

By: Eléonore H

When you buy cakes from a specialized bakery, the buttercream you will find frosting them is most often Swiss Meringue.