How do I Make Easy Booties?
Handcrafted items are considered by many to be heirlooms, especially when given to a child at birth. One of the quickest and easiest projects to make for a child is baby booties. Easy booties come in a variety of shapes and sizes, from newborn to toddler, and can be either crochet or knit. There are a variety of both easy crochet and easy knitting patterns available for anyone who would like to make a pair of easy booties, obtainable either free or by paying a fee. There are some fundamental differences between the different types, which may make it difficult to figure out how to construct them.
Knitting and crocheting are both types of fiber arts. Both involve the use of yarn or thread, but they utilize different tools in the construction process. Knitting patterns usually call for knitting needles, and the needles may be straight, circular or a set of double pointed needles. Crochet patterns usually call for the use of one or more hooks. Either type of project, depending upon construction, may make use of a tapestry needle, particularly if the easy booties are knit flat and the crafter needs to seam up the sides to create a three-dimensional project.
Depending upon the tool used, the yarn choice may vary. Medium to lightweight yarns are usually called for in patterns to construct easy booties for a child. Bulky or heavier weight yarns are not often used. Generally, the smaller the hook or needles, the lighter the weight of the yarn used. Lighter weight yarns are more often used to construct heirloom items that will not be used on a regular basis, and medium weights are often used for functional, day-to-day items.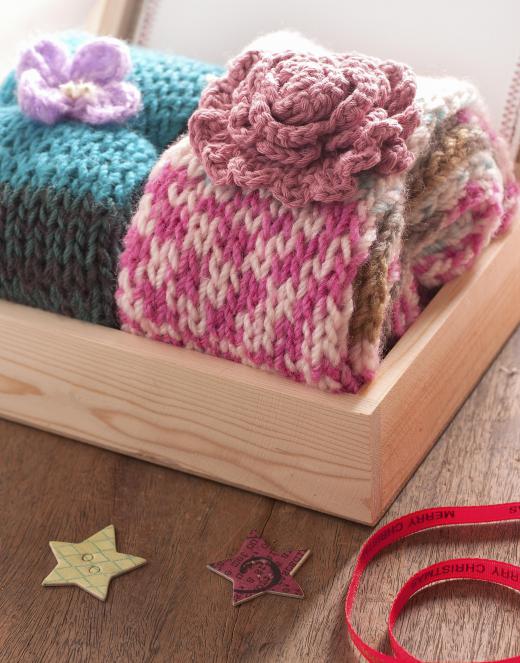 Fiber choice may also play an important part, especially if the item needs to be machine washable. Acrylic, which is a form of plastic, is machine washable and hypoallergenic, but is considered by some to be itchy or uncomfortable. Wool may aggravate allergies or a child's sensitive skin, and is not always machine washable. Cotton is an ideal choice for easy booties, but provides some concerns as it might not be treated to prevent flammability.
Before embarking on a project, a visit to a local yarn specialty store is recommended. Employees there are trained to help with tool and material selection. They also can provide guidance concerning patterns, help for beginners and may even help provide guidance about which craft is right for the individual person or project.
AS FEATURED ON:
AS FEATURED ON:

By: picsfive

Knitting needles and yarn.

By: joephotostudio

Simple knitting projects should have a consistent stitch pattern that provides more leeway for mistakes.