How do I Crochet Booties?
Crochet booties are an easy beginner project for someone who is just learning to crochet. Booties are small, shaped boots worn by infants who can crawl but not walk. They are made in a boot shape and have a ribbon or simple button located at ankle level to secure the bootie onto the baby's foot.
Crocheting is a craft that uses a hooked tool to pull loops of yarn or thread into other loops to create a pattern. This weaving technique is used to create a wide range of clothing and fabric items. The type of yarn used determines the texture of the item and the pattern selected defines the shape and dimensions.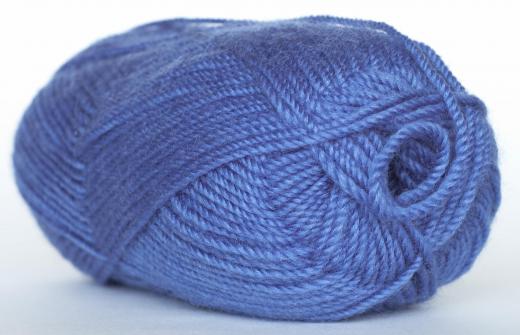 There are three steps to create crochet booties: purchase the required supplies, find a bootie pattern, and make the crochet booties. This is a great project for a beginner to do, as it is simple, straightforward, and very forgiving of minor mistakes. A set of booties should take no more than two hours to complete.
The supplies required for this project are a crochet hook and yarn. Both these items can be purchased from any crafts store. The smaller the hook, the more detailed the crochet booties will be.
For baby booties, select a middle gauge hook. It will allow you to complete the project quickly and provide a product that will be breathable. Select a quality yarn and purchase at least one ball. If you want to have a two-colored booties, then purchases the yard from the same supplier.
Baby bootie patterns are available for free in craft stores, magazines, websites and crochet groups. Select a pattern that is easy for you to understand and has photos or images. For multiple colored patterns, make sure they provide detailed instructions on adding and removing a yarn color from the work product.
There are eight rows of stitches in baby booties. To start, chain stitch 26 stitches across in one row. Half double crochet stitch to turn the direction of the material and repeat 26 stitches back. Repeat for three rows and then do not chain stitch at the end, but turn the material.
To create the top of the bootie, slip stitch for five stitches and then chain stitch for 17, leaving the last four stitches alone. Repeat for three rows, using a double crochet stitch to create the top of the booties. Slip stitch the final row to close it off and then tie a knot at the end of the row. To finish off, fold the piece in half. Using the same thread, sew the boot portion together and fold the top down.
AS FEATURED ON:
AS FEATURED ON:

By: Ekaterina Kolmakova

Yarn for crocheting.

By: vladi59

At least one ball of yarn is needed to crochet baby booties.

By: Joni Hofmann

Booties are small, shaped boots worn by infants who can crawl but not walk.