Hook gauges, also known as needle gauges, are flat metal or plastic devices used to size knitting needles and crochet hooks. The device features various size holes with their corresponding measurements. If a needle or hook does not display its size on the shaft, crafters can slip it through the holes of a hook gauge to determine correct size, much like ring sizing gauges for jewelry. Holes in the hook gauge measure needle sizes starting from 2 millimeters up to 11 millimeters, with notations for converting to different measuring conventions.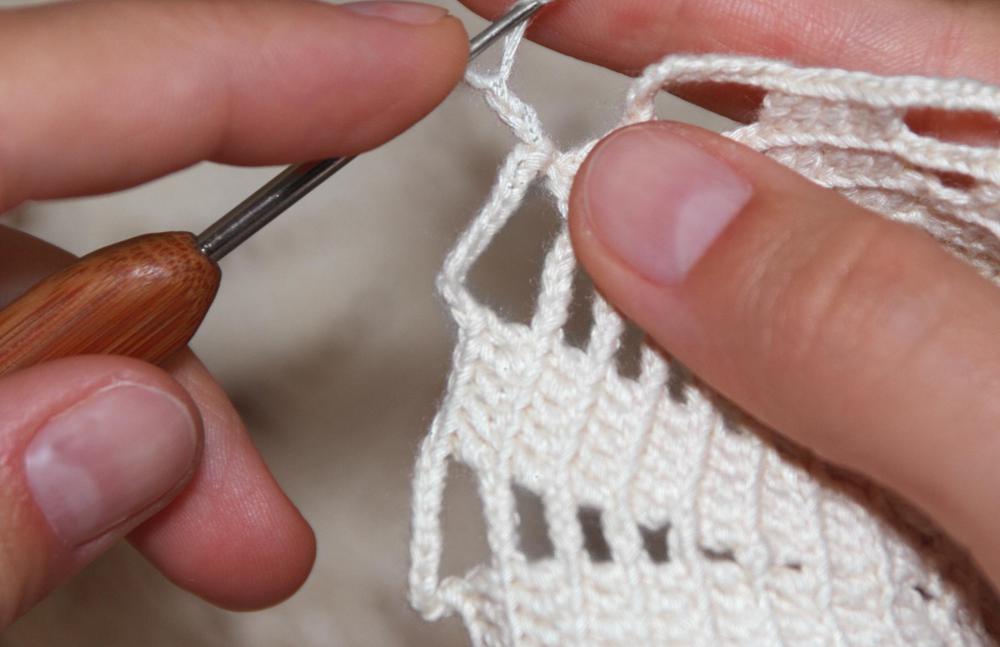 Knitters and crocheters need a vast array of differently sized needles and hooks to complete their crafts. Needles come in different circumferences for different techniques and stitches. When dropped into knitting or crocheting baskets, it is easy to confuse one size needle or hook for another, especially when those tools are close in size. A hook gauge serves to help crafters determine the correct size of their needles before beginning a project.
In addition to identifying the size of an unmarked needle or hook, hook gauges also help when converting from U.S. sizing standards to metric sizing standards. For example, a crochet hook marked as a US G/6 may not display its size in millimeters. If a crocheter is using a pattern based on metric sizes, he or she needs to convert the U.S. standard measurement to millimeters to determine which hook to use. As such, a hook gauge will identify the US G/6 hook as a 4 millimeter size. Most hook or needle gauges include multiple size-standard identifiers, including U.S. standard and metric sizes.
Many hook gauges also feature a ruler on one or both sides, which is used to ensure proper measurements for various squares and fabric test swatches. Such rulers provide crafters with important information regarding their finished products, before too much work is completed. Patterns for both crochet and knitting projects typically reference gauge or tension as a measurement recommendation for use with a hook gauge ruler.
In reference to test swatches and hook gauge rulers, the term gauge does not apply to just needle sizes. Gauge, or tension in European patterns, also references the size of the finished craft project. A correctly sized needle or hook determines the finish product's gauge or tension. Most patterns recommend stitching a test swatch to measure for correct gauge or tension before completing the entire project. The ruler on a hook gauge provides an easy-to-use measuring tool for just such a purpose, illustrating if a change in needle or hook size is necessary to achieve the desired finished size.
The right gauge crochet hook and weight yarn is necessary before beginning to crochet.

A smaller hook, combined with a finer yarn, lends itself to more delicate patterns.