How Do I Choose the Best Vintage plus Size Clothing?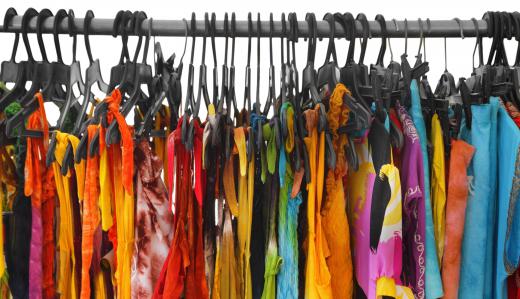 When buying vintage plus size clothing, you should be mindful of garment size, inspect each item carefully and learn about the shop's return policy. Investigate several vintage clothing retailers so that you have a wide selection of clothing from which to choose. If you have difficulty finding vintage plus size clothing that suits you or fits you, you might want to consider buying your clothing from a company that specializes in "retro" copycat pieces of vintage styles.
People who purchase clothing, especially women, should be aware that sizes are not standard between manufacturers. This means that someone who wears a size 14 dress from one company might be barely able get into a size 16 made by another company. These size differences can be even more pronounced in vintage clothing, because body types and sizes have changed over the years. When you visit a vintage clothing store or choose your vintage plus size clothing online, don't select an item by the size indicated on the label. Make sure that it fits by either trying it on or asking the online retailer for exact measurements of the garment itself.
There are many sources of plus size clothing, so it is a good idea to familiarize yourself with several. Vintage plus size clothing is often hard to find, so it might behoove you to seek out several shops that you can regularly comb for styles that you like. If you can develop a relationship with a shop proprietor, you can ask him or her to keep an eye out for vintage plus size clothing in the styles and sizes that you like. This can help ensure that you will have a decent selection of clothing available on a regular basis.
Vintage clothing typically has been worn by others, or is at least several decades old, so it is very important that you inspect any item that you are considering buying. Some fabrics and trims don't hold up well over time, so be sure to look at whether the garment has any holes or tears or whether there are sections of the garment where the seams appear to be weak. Old stains might be hard to remove, so it might be best to avoid purchasing a stained garment, even if it is otherwise quite beautiful. Be sure to ask the retailer about its return policies. If all sales are final, then you should be extra careful in your inspection of any vintage plus size clothing that interests you.


By: adisa

Plus size clothing is available in many stores and online.

By: bellemedia

Tie dye was very popular in the 1960s and '70s.

By: Eky Chan

Check seams for weak areas that could need repair before wear.