What is Plus Size Clothing?
Plus size clothing tends to refer to clothing made for women who wear a size 14 in the US or 16 in the UK, The market for this form of clothing has gradually increased since its inception in the early 1900s. Prior to that, most clothing was not ready to wear and the majority of people made their own garments or had them tailored to accommodate various sizes. This is far less common in industrialized nations now, and most people buy premade clothing in designated sizes.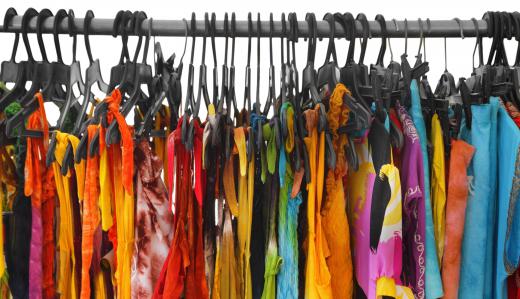 There are many manufacturers dedicated solely to producing plus size clothing, and also quite a few that make plus size or "womens" size clothes for brands that create "regular" size clothes. Some stores feature only larger sizes, and many of them have become popular destinations for women who wear plus sizes.
Early plus size clothing could be hard to find, and many women had to order by catalog. Moreover, a trend existed toward creating blousy or "tented" looks that did nothing to celebrate the figures and beauty of women with curves. This sensibility has gradually changed as many manufacturers now realize that clothing that fits and is not overly large tends to be much more flattering than clothing that hides the figure. Many companies have capitalized on this trend, producing fashionable, figure flattering clothing.
Larger sizes may be a little difficult to understand, since they can vary by manufacturer. Some plus sizes are designated as women's clothing and a W may follow size number. Typically, sizes can go from a 12W to 14W up to 30W or greater. Sizes skip odd numbers, so they don't usually include 13s or 15s; some clothing marketed to teens is sized in odd numbers instead of even ones.
A 14W is likely to be larger in cut around the waist, stomach, and hips than is a regular size 14. The degree of difference between the sizes may or may not be significant. Each manufacturer uses its own measurements to determine plus sizes and, as with most brands, women will notice that some manufacturers' sizes run smaller or larger than average.
Another way of sizing plus size clothing is in Xs. Clothes may be designated 1X, 2X, and 3X or larger. Though this is now always the case, 1X typically corresponds to a size 14W to 16W, 2X to an 18W to 20W, and 3X to a 22W to 24W. There are noted differences, however, and women should try on clothing to make sure that it fits correctly.
For women looking for plus size styles, the best bet when ordering from catalogs is to check sizing charts against personal measurements. Of course, the availability of larger clothes in stores adds an additional safeguard, since women can try on various sizes to see which ones fit the best.


By: Hugo Félix

Women who wear plus size clothing may find a greater selection on line or through catalogs.

By: adisa

Plus size clothing is available in many stores and online.

By: lalouetto

Pencil skirts can be very flattering on plus size figures.