How Do I Choose the Best Cordless Phone with Caller ID?
In order to choose the best cordless phone that includes caller identification (ID), there are a number of different features and technical specifications you may want to take into account. The first factor to consider when trying to choose the right cordless phone with caller ID is the frequency it operates on, since you will want to get one that will not create interference with your other devices. You may also want to think about the different caller ID options, as a simple handset will display the number of an incoming call, while others can use distinctive rings or even speak a caller's name out loud. The screens that these phones have also vary, from small black and white liquid crystal displays (LCDs) to larger color screens. You may also want to look at other features to help you choose the best cordless phone with caller ID, such as multiple base stations, headset compatibility, or a built-in answering machine.
Before you select a cordless phone with caller ID, you may want to consider the frequency that it operates on. There are a couple different frequencies that these handsets typically use, so you will want to choose one that does not overlap with your existing wireless devices. You will also need to decide whether to choose an analog or digital phone. Analog cordless phones typically offer high voice quality and lower prices, but use older technology that may be difficult to find. Digital phones are typically more secure, and often allow you to use multiple handsets or base stations.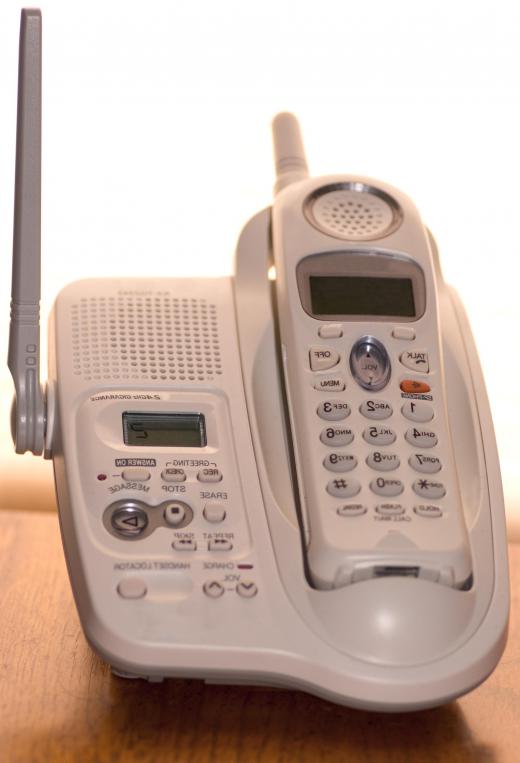 The other main feature to consider is the caller ID function itself. Basic handsets typically have simple monochrome displays, which show nothing more than an incoming phone number each time phone rings. In some cases, these handsets will also display a name or keep a record of people who have called. More complicated phones add a distinctive ring functionality, which can allow you to associate various phone numbers with different ring tones. Some are also capable of reading the name of a caller in a digitized voice.
There are many other features that you may also want to consider when trying to choose the best cordless phone with caller ID, depending the way you plan to use the device. If you need to use a hands free headset, you will want to select a phone that supports that functionality. Some phones include a jack somewhere on the handset that you can plug a headset into, while others are compatible with various wireless technologies. Another useful functionality is a base station that has a built-in answering machine, with one or more voicemail boxes. If you already have voicemail through your phone company, you may be better off without that feature.
AS FEATURED ON:
AS FEATURED ON:

By: Michael Shake

When selecting a cordless telephone with caller ID, it is important to consider its operating frequency so it will not interfere with other wireless devices.