How Do I Choose the Best Cordless Phone with Answering Machine?
If you are looking for a cordless phone with answering machine, then you should consider how many handsets you might want to use as well as the functionality of the answering machine system. Many cordless phone models are designed to function as a single base unit that can be expanded with additional handsets that all interface with the base. You should look for the system that supports the number of handsets you need, as well as any additional features you might want. The best system for you should also give you answering machine features you want, like easy navigation of messages.
This type of telephone includes a handset that does not physically connect to the base receiver and includes a built-in answering machine. There are many different models of these kinds of phones available, so you should consider your options. Look at both professional and user reviews of various models to see what others have experienced with these phones.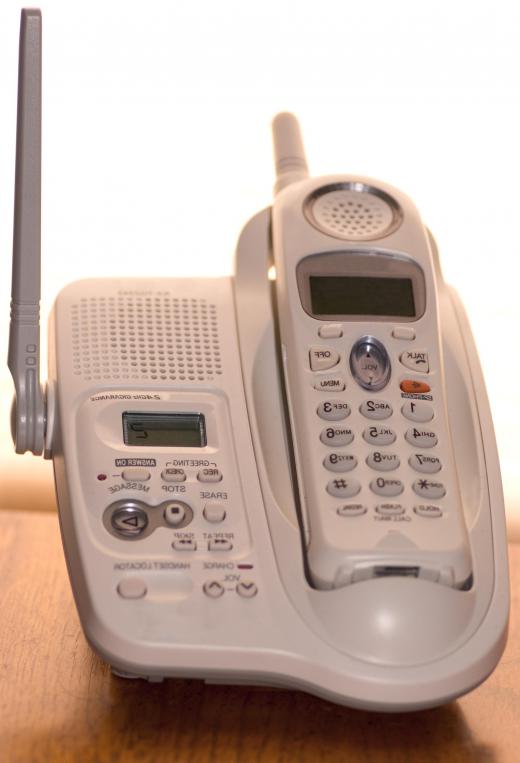 One of the first things you should consider is the number of handsets supported by various systems. Many phones have a single base unit, with multiple handsets wirelessly tied to that unit that can be used throughout a building. If you have a house with three floors, for example, then you might want to use a phone that can support at least three handsets. Many cordless phones support up to three or five handsets, but if you need more than that, you may need to look at specialty or professional phone systems.
You should also look for a cordless phone with answering machine that includes any secondary or special functions you want. These functions can include things like caller ID, speaker phone, and connections for a headset. You may also want to look for a phone that has a digital phone book you can program with frequently called phone numbers to make calling easier.
Look at the different functions and features available with the answering machine. Consider the amount of storage provided to ensure you can record and save as many incoming messages as you need. Some answering machines may also be easier to use and navigate, providing you with various features to easily recall and play messages that have been recorded. Answering machines can also allow for remote access, which lets you retrieve messages while away from the machine.
AS FEATURED ON:
AS FEATURED ON:

By: Michael Shake

Some cordless phone systems with an answering machine have other features, such as caller ID.