Which Desserts can I Make with Peaches?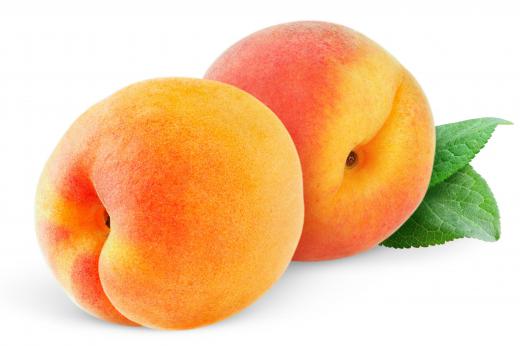 Peaches are excellent eaten on their own or added to fruit salads and other dishes. But, when you have quite a few peaches to use up, you can always find many well-loved desserts to make. Cobbler, Peach Melba, cake, pie and peaches in wine are all delicious ways to turn the fruit into dessert.
Peach cobbler is a very well-known dessert baked in a shallow pan. Sliced fresh fruit is placed in the dish with a brown sugar, cinnamon and vanilla mixture sprinkled over them. A tablespoon or so of flour is also usually added for thickening purposes. Then, a crust made from flour, brown sugar, baking soda and/or baking powder and buttermilk or soured milk is dropped in spoonfuls over the fruit. This cobbler is easy to make and is delicious served warm with whipped cream or vanilla ice cream.
Peach Melba is another popular dessert and is named after the Australian opera star Dame Nelly Melba. When beginning to prepare it, fairly ripe fruit is blanched and then put into ice water before skinning and slicing. The slices are put into the fridge, usually with some sugar added to them and some chefs add lemon juice and/or honey. At serving time, a scoop of vanilla ice cream is placed into a fancy dish, then the fruit is placed over the ice cream and raspberry sauce and slivered almonds top it off. Fancy restaurants often add sugar lace or ice sculpture accents to their Peach Melba.
Cake can also be made with peaches added. Some used canned fruit while others use fresh. Peach upside down cake is made like pineapple upside down cake and pound cakes and tube cakes are also popular. Peach cheesecakes often have almond flavoring added.
Peach pie can be made in two different ways. A double crust pie often has a lattice crust, and cinnamon and nutmeg are usually added to flavor the sliced peaches. A single crust pie may have a sour cream and peach filling and a crumb topping made with flour, butter, sugar and cinnamon.
Peaches in wine are an elegant French dessert. Any decent drinking wine can be used. Sliced and sugared peaches are left in the refrigerator for about 6-8 hours soaking in the wine. At serving time, the fruit and wine can be placed in either nice glasses or in dishes. Whether you use red or white wine depends on your personal taste.


By: Anna Kucherova

Peaches.

By: robert lerich

Doughnut peaches.

By: Trudy

White wine with peaches can make a very refreshing sangria.

By: Tsuboya

Peach cobbler is often topped with whipped cream.

By: freshidea

Blanch peaches in boiling water to remove the skin.

By: Tesgro Tessieri

Pastries may have a peach filling.

By: msheldrake

Peach cobbler is a classic American dessert.