What Is a Peach Festival?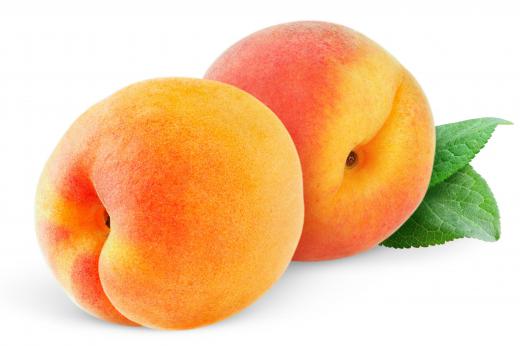 A peach festival typically takes place over several days in an area that has a large peach industry, and is an event that pays homage to the peach, the peach growers and the peach industry as a whole. A major part of the event involves selling a substantial amount of peach foods and drinks, often by local vendors who made them at home. There may also be live music each day of the festival and a parade that features local dignitaries. Adding to the appeal of the event is the ability to buy homemade arts and crafts and even make some right there.
Although some people may just be familiar with regular peaches and peach pie, there are a substantial number of other types of food and beverages comprised of the round, juicy fruit. Many of them are available for purchase at a peach festival and, at some, there are contests for the best recipes in their respective categories. Some of the peach foods and drinks that might be at the event include ice cream, cobbler, alcoholic and non-alcoholic drinks and wine. It's also likely that there will be plenty of peaches available for purchase.
A parade that goes through the peach festival will typically consist of a variety of people who either walk in the parade as a show of support or provide some type of entertainment. Often, local dignitaries, such as the town mayor, may participate as well as beauty queens and heads of the local peach industry. Performers may include the high school band or a dance troupe from the local college.
The peach festival may also have homemade arts and crafts available for purchase. Occasionally, there is an opportunity for customers to make their own items right at the different booths. There is a wide array of items for sale, which can include food, clothing, jewelry and home decor.
There is often one or more bands providing live entertainment at the peach festival. Each band might play music of the same genre or there could be an eclectic mix including a country band on one day and rock on another. Local bands may play, but there might also be a famous band performing, especially if the members are originally from the area.
A peach festival is a great way to support local businesses — everyone from the vendors to the performers. Of course, the food is also a huge draw and, for someone who is especially fond of the peach, it can be an event to discover enough items to tide you over until the next festival the following year. Considering the festival is kid-friendly, it's an excellent way to spend the day out with the family.


By: Anna Kucherova

Peaches.

By: robert lerich

Doughnut peaches.

By: msheldrake

Peach-based desserts like cobbler are a common sight at peach festivals.

By: Andrey Armyagov

There is often one or more bands providing live entertainment at the peach festival.