Peach Melba is a famous dessert, long a classic in Europe and much enjoyed in many other parts of the world. This mix of peaches and raspberries in a sauce over vanilla ice cream was created in the early 1890s by Auguste Escoffier, when he worked at London's Savoy Hotel. The name comes from Dame Nellie Melba, who at the time was one of the most celebrated opera singers. Through the dessert, Escoffier sought a way for Dame Melba to eat ice cream, something she loved but feared she couldn't eat because it would damage her singing voice.
The original name for Peach Melba was pecheau cygne or "peach with a swan." It referenced Dame Melba's performance in the Wagner opera Lohengrin to which Melba had invited Escoffier. The opera was part of the Knight of the Swan tradition and based on medieval tales where a knight arrives in a swan boat. Escoffier loved the swan boat used in the opera, and prepared the first peche au cygne with a swan ice sculpture.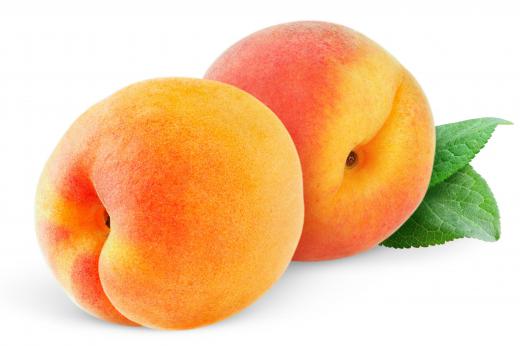 Later, as some accounts go, Escoffier reimagined the dessert when he went to work at the Ritz Carlton Hotel, and added raspberries to the peaches, renaming the dessert to Peach Melba so no one would forget its inspiration. It is this recipe that has become most famous and was most published in later cookbooks. This improved version as Escoffier made it is actually simple to make.
Most Peach Melba recipes call for you to blanch the peaches and remove their skins. If the peaches are very ripe, the blanching step may be unnecessary and skin removal on ripe peaches is easy. The peeled and sliced peaches are sprinkled with granulated sugar and allowed to macerate and chill. Raspberries in Escoffier's recipe were crushed and then strained, but this step is now made much simpler by using either a food processor or blender to turn the raspberries into a fine sauce. The sauce will be a little runny and should be thickened with powdered sugar. Escoffier recommended straining the crushed berries to remove seeds, and you can do the same if you don't care for seeds and want a smoother sauce.
When the peaches and raspberries are chilled, ice cream is placed in a dish, bowl or cup, and the peaches are layered on top. Next, raspberry sauce is poured over the peaches and ice cream to produce a wonderful sundae like confection that bursts with fresh taste. You don't, however, need to wait until these fruits are in season if you can get them frozen. You can certainly use frozen peaches and frozen raspberries, or even mixed berries to make a passable Peach Melba at any time of the year, though some people do claim that the best renderings of Peach Melba always use fresh fruit.
AS FEATURED ON:
AS FEATURED ON:

By: Anna Kucherova

Peaches are cooked in syrup and then drizzled with Melba sauce to make Peach Melba.

By: freshidea

Blanch peaches in boiling water to remove the skin.