Trail running is an exercise activity that involves running along some form of trail. Many people prefer trail running to running on roads or sidewalks because they do not need to worry about avoiding cars. Trails also tend to offer more interesting terrain and surroundings for the runner to enjoy. The varied terrain can, however, offer some inconveniences and dangers; trails are often wet, slippery, or otherwise treacherous, and it is easy to become lost on unfamiliar trails. Some runners enjoy the challenge, though, and find that the varied terrain gives a more complete workout of more muscles.
There are many advantages to trail running. In some ways, it is safer than running on a track or on the road or sidewalk. One generally does not need to worry about cars or other motor vehicles using the road. The surface of trails is often softer than the hard road or sidewalk, placing less strain on one's bones. Trail running is also much less monotonous than running on a track or on a road; the varying terrain, plant life and wildlife all make for a more visually varied running experience.
It is also important to make note of the difficulties and dangers of trail running; an unprepared runner could find himself in a great deal of trouble if he is not aware of the risks. Trails are often much more isolated than roads or tracks, so if one gets hurt on the trail, is mugged, or is attacked by an animal, it can be difficult to get help. The uneven terrain of trails can also present a variety of dangers, especially when it is rocky, covered in roots, or slippery and wet. One can easily trip or slip and break bones or pull muscles. This can be particularly problematic if one is far away from the start of the trail and lacking any means of communication.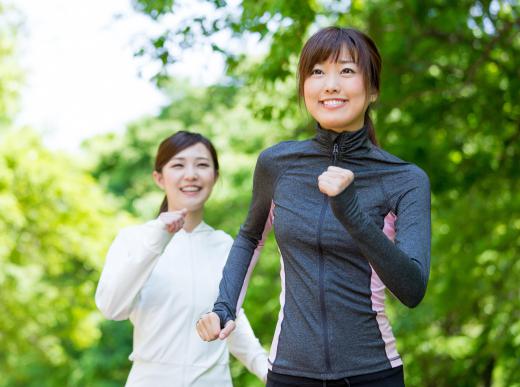 Trail running provides a somewhat different workout than track or road running does. The uneven terrain forces one to make use of a variety of muscles that tend to be unused when running on flat terrain. The degree to which this is true varies based on the nature of the trail; some trails are flat and paved while others are narrow and treacherous. Trail running tends to increase muscular strength and endurance because many trails feature steep inclines and other such difficult terrain. Track running mostly improves muscular endurance, as it does not add any new resistance to the muscles being used.
AS FEATURED ON:
AS FEATURED ON:

By: Dirima

Trails may offer more interesting terrain than roads.

By: taka

Trail runners should invest in waterproof running shoes that can handle different outdoor surfaces and terrain.

By: Warren Goldswain

Injuries are possible when trail running.

By: Dusan Kostic

Trail running is a great way to explore new areas.

By: ramonespelt

Trail running may involve uphill and downhill jogs.