What is the Renal Medulla?
The renal medulla is a term used for the innermost portion of the kidney. It is divided into several sections known as renal pyramids because of their cone-like appearance. Inside are structures known as nephrons, and they have the responsibility of maintaining the balance of water and salt within the blood.
The renal artery provides the blood supply to the kidney, then branches into what are known as arcuate arterioles. These blood vessels are located at the border of the renal medulla and are responsible for renal, or kidney, circulation. The arcuate arterioles are so named due to the fact that they are shaped like arcs due.
The arcuate arterioles branch even farther into interlobular arterioles, which are smaller arteries that branch off at right angles. These blood vessels finally reach their destination at the glomeruli, the plural form of the word glomerulus. These are small capillaries responsible for starting the process of filtering toxins from the blood and forming urine.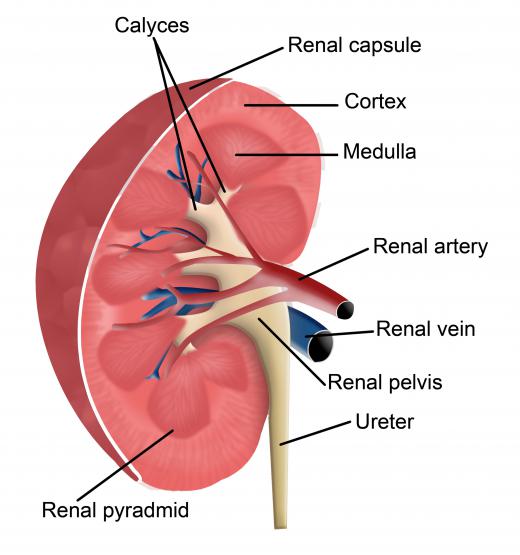 When the blood reaches the glomeruli, pressure begins to build. This forces the portion of the blood known as serum into the structures known as renal tubules. Serum, another name for serous fluid, is the liquid part of blood remaining after the clotting process has occurred. The renal tubules contain the resulting liquid that will later be converted to urine.
Once the blood has left the renal medulla and the serum is removed and forced into the renal tubules, the fluid exits the kidney through the collecting duct. It then makes its way to the ureter, the tube designed to carry urine from the kidney to the bladder. After this process, the urine leaves the bladder and exits the body.
Damage to the kidney can occur due to traumatic injury or a naturally occurring disease process, and when the renal medulla is damaged, the results can be devastating. Decreased kidney function is possible, with complete renal failure becoming a possibility. Medical intervention is crucial with this type of kidney damage. Hypertension, also known as high blood pressure, is the most common symptom. A urologist or a nephrologist is well qualified to treat this type of damage, with urologists specializing in the urinary system and nephrologists specializing in the kidney itself.
AS FEATURED ON:
AS FEATURED ON:

By: Tyler Olson

Decreased kidney function may occur if the renal medulla is damaged, requiring immediate medical attention.

A diagram of a kidney, including the renal medulla in pink.

By: designua

A diagram of a nephron, located inside the renal medulla.

By: aaabbc

Long-term use of narcotics may damage the renal medulla.

By: dambuster

High blood pressure is the most common symptom of a damaged renal medulla.