What is the Leptin Diet®?
The Leptin Diet® is a meal plan that makes leptin, a fat hormone the body creates, its focal point. Leptin plays a role in controlling metabolic function and appetite. When a person follows the Leptin Diet®, he alters his food consumption and increases his activity level to help balance the levels of leptin in his body. This is said to work as a natural appetite suppressant and an energy booster. To facilitate weight loss, a person on this diet changes the timing of his meals, avoids trans fat, eats smaller meals, and incorporates at least some exercise into his daily routine.
A person who follows this diet changes the way he eats carbohydrates and proteins. He typically chooses whole grain selections when consuming carbohydrates. He also limits the amount of carbohydrates he eats to 50 percent or less of his daily calories. When he eats a carbohydrate, he usually eats a protein along with it. For breakfast, a person on the Leptin Diet® typically eats a meal that is high in protein; this helps to maximize his energy until his lunchtime meal.
Timing and size of meals are typically very important for a person on this diet. Those following this diet are not supposed to eat anything after dinner and are supposed to wait at least 11 hours before eating their breakfast meal. The reason for waiting this long is to encourage the body to burn fat. Dieters are also supposed to eat smaller meals that are packed with nutrition three times per day, waiting five hours between each meal. This is said to boost fat burning and prevent insulin resistance.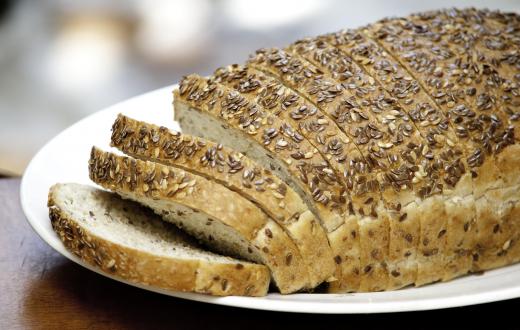 Exercise is an important part of following the Leptin Diet®. A person who follows this diet is supposed to engage in moderate exercise each day. This doesn't necessarily mean spending hours on a treadmill or in a weight room, however. Even 15 minutes of brisk walking or a few laps around the pool may help. The general idea is to get the body moving to boost metabolism and maximize the burning of calories.
Fat reduction plays a role in the Leptin Diet® as well. Instead of eliminating fats, however, dieters opt to eat healthy fats. For example, a dieter may use olive oil for cooking and sesame oil for salad dressings. For optimal health, trans fats are excluded from this diet. A person following it typically checks food labels to ensure they do not contain hydrogenated or partially hydrogenated fats.
AS FEATURED ON:
AS FEATURED ON:

By: jedi-master

The Leptin Diet may aid in weight loss.

By: AAA

The Leptin Diet® emphasizes the consumption of whole grain breads and cereals.

By: MSPhotographic

The Leptin Diet® plan doesn't ban healthy fats, such as those found in avocado and low-fat cottage cheese.

By: Antonioguillem

Cardiovascular exercise is an essential component of any successful weight-loss regimen.

By: Lovrencg

It's essential that dieters shed pounds safely and gradually, especially when losing a great deal of weight.

By: Ljupco Smokovski

The Leptin Diet strives to help people loose weight through managing the hormone leptin by following five rules for healthy eating.