What Is the Lateral Hypothalamus?
The lateral hypothalamus is a part of the hypothalamus, located in the mid-brain, which controls hunger, thirst, and emotions. Neurons in this area respond to the signals of other areas of the brain and send signals to different regions. They are also in close proximity to the blood supply and can be influenced by such factors as glucose levels in the blood. Glucostatic receptors trigger a response in the lateral hypothalamus, resulting in the firing of neurons, which creates the feeling of hunger.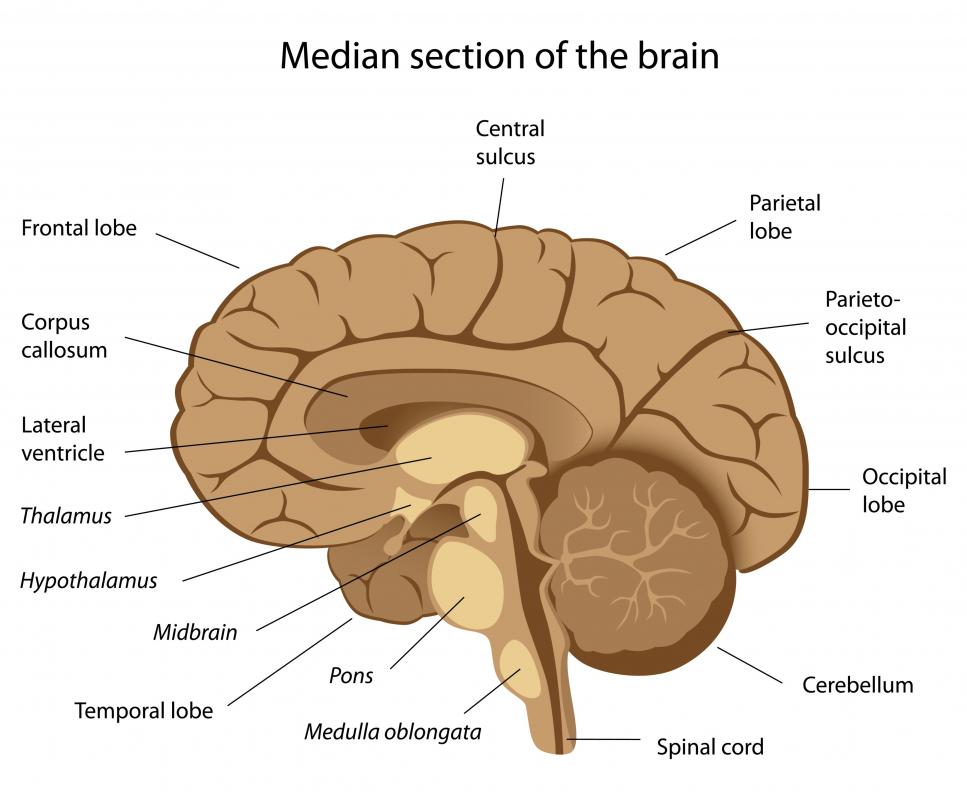 Emotional expression and pleasure seeking are also influenced by the lateral hypothalamus, and the structure also has the ability to raise heart rate and blood pressure. In contrast, the medial hypothalamus reduces heart rate and blood pressure, and sends signals to eliminate the feeling of hunger, so both hypothalamic structures serve as a counterbalance for one another. Circadian cycles are also regulated by the release of melatonin in the hypothalamus and pituitary gland. Changes in the lateral region can have an impact on sleep, depression, and appetite, and lead to depression-related conditions such as Seasonal Affective Disorder (SAD).
Changes in glucose levels and other substances in the blood influence the lateral hypothalamus, along with calorie levels. Hormones are secreted during digestion to control the digestive organs, and during this process other hormones are released by the solitary tract, a brain stem structure that projects into the hypothalamus. Osmoreceptors in the lateral hypothalamus help to determine whether water is needed or not.
Functions of the lateral hypothalamus and its projections into other brain regions seem to indicate it has a strong influence on reward and motivation. Activation of neurons is associated with cues related to receiving food or drugs. Reward-seeking and drug addiction are strongly related to activity in the lateral section. The hypothalamus as a whole tries to create a balance within the body, and its activities are mainly reflexive. Hunger, emotion, and pleasure are just a few things that the structure acts to maintain as required, and it also serves to trigger a need to escape dangerous or unpleasant conditions.
The lateral hypothalamus is strongly influenced by various metabolic processes and has a direct effect on emotional states and hunger. Damage to it can result in extreme depression or fits of rage, and aggression can be totally impeded if the lateral part is destroyed. Stimulation of appetite is also eliminated, and starvation can occur if the problem is not corrected.
By: Konstantin Yuganov

Sleep can be affected by changes to the lateral hypothalamus.

By: Alila Medical Media

The brain's hypothalamus holds the lateral hypothalamus.

By: Boyarkina Marina

Changes in the lateral region can trigger seasonal affective disorder (SAD) and other mood disorders.

By: nebari

Neurons firing in the lateral hypothalamus create the feeling of hunger.