What is Special Handling?
Special handling is a service offered by the post office for packages that require preferential handling because their contents are fragile or need special care. There is an extra charge for mailing things with this service, in addition to the basic charges for mailing, and it can be combined with other mail services as needed by the customer. It is advisable to bring packages that require special handling in at the beginning of the week to ensure that the post office has as many business days as possible to deliver the package.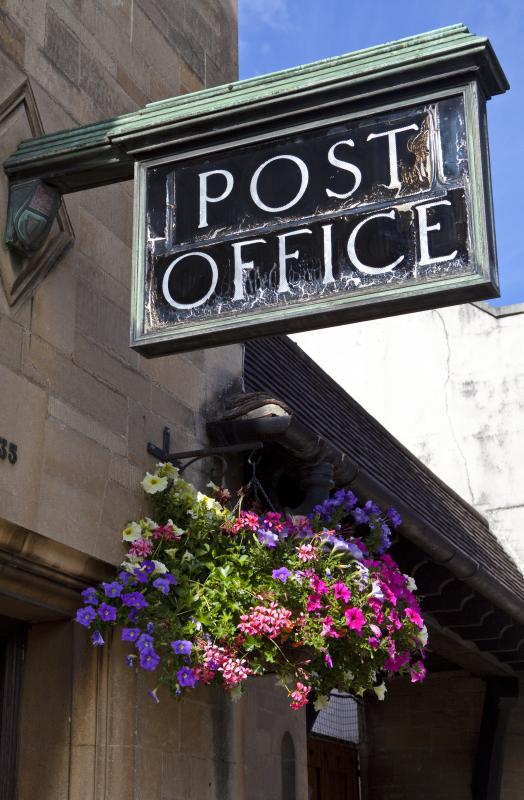 One of the most common uses for special handling is in shipments of live animals, like bees and chicks. While the post office does accept live animals for shipment, it strongly recommends getting special handling service to ensure that the animals will be delivered in a timely fashion. It is also important to expedite the shipping service to minimize the time the animals spend in transit. Special handling is available for other kinds of packages that need to be handled with extreme care.
For packages with liquid, fragile, and perishable items, it is usually sufficient to mark the package to indicate that it should be handled with care, and to select a rapid shipping method to reduce shipping time. A postal employee may recommend special handling for certain types of packages based on experience and post office policies. People who are not sure about their choice of shipping method can ask for advice.
First class mail, priority mail, and parcel mail can all have special handling service added on. In addition, customers can request delivery confirmation, insurance, and cash on delivery (COD) services if they are needed. Fees will be charged for all of these extra services. When shipping packages as part of a business transaction, it can be advisable to get a quote from the post office on the total cost in order to charge an appropriate amount for shipping.
When packages are sent with special handling, the recipient may be alerted so that he or she knows when to expect the package. The post office usually requires the recipient to come to a post office location to pick up the package and a signature will be required. Forewarning allows people to prepare ahead of time so they can pick up the package as soon as they are notified that it is in. Shippers may also be advised to bring packages in at particular times or days of the week so they can be moved quickly out of the originating post office to reduce the amount of time they spend sitting.
Shipments of live animals, like chicks, require special handling.

The post office offers special handling for sensitive packages.

With special handling, sometimes the recipient is required to pick up the package at a post office location and sign for it.