Shrimp creole is a seafood dish with a tomato-based sauce that is usually served over rice. Creole is an American cuisine that originated in southern Louisiana, although its influences include French, Spanish, and Native American. Making shrimp creole usually begins by creating a roux, a mixture of butter or vegetable oil and flour, and then adding vegetables like celery, onions, and hot or sweet peppers. Tomatoes, stock or water, and other seasonings are added when the vegetables have softened, and then shrimp and herbs are incorporated at the end of cooking time.
This typically Southern dish is an example of how settlers in southern Louisiana used locally available ingredients combined with the cooking styles of their home countries to create a new cuisine. Beginning a dish with a roux of flour and butter is a traditionally French cooking technique used to make this creole dish. A roux is made by heating butter in a skillet until melted and then adding flour and cooking them together to form a thick paste. The roux should be allowed to brown but not burn. After the roux has cooked for long enough, vegetables can be added.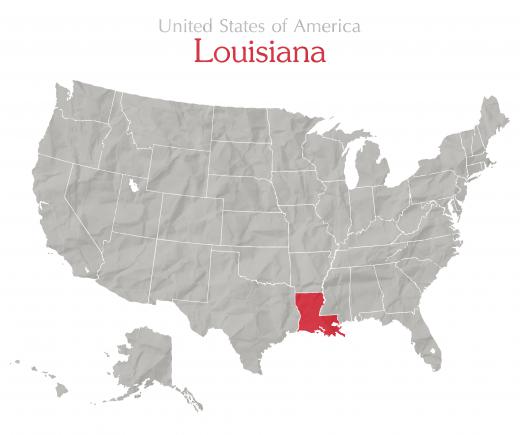 The vegetables most often found in shrimp creole include garlic, onions, and green pepper, all of which are staples in creole cooking. Other versions could include okra, green onions, and herbs such as cilantro or parsley. The most traditional versions of this recipe can easily be altered with any ingredients that the chef has on hand and enjoys eating. After the vegetables are added to the roux, they should usually be sautéed until they are softened and slightly browned to develop color and flavor. After they have cooked to this point, the remaining ingredients can be added to form the sauce.
The tomato-based sauce for shrimp creole can be made from fresh or canned tomatoes, canned tomato sauce, or a combination of these. Either broth or water is also usually added, along with a variety of seasonings. Bay leaf and cayenne pepper or hot sauce are traditional flavor ingredients, but some versions of the recipe also include Worcestershire sauce, sugar, or commercially prepared creole seasoning blends. If using a seasoning blend that contains salt, adjust the amount of other salt in the recipe accordingly. The sauce should be simmered for approximately 30 minutes or more before adding the final ingredients.
When the creole sauce has reached the desired consistency, the shrimp can be added. It's important to wait until near the end of cooking time to add the shrimp, because it cooks very quickly and becomes rubbery and chewy if overcooked. The shrimp can be allowed to simmer on top of the sauce until they just turn pink. Then stir in fresh herbs just before serving to maximize their flavor and serve the dish over white rice.


By: ilolab

Shrimp that is frozen raw must be properly thawed before it's cooked.

By: unclepodger

Canned tomatoes may be used to make the sauce for shrimp creole.

By: metrue

Creole is an American cuisine that originated in southern Louisiana.

By: Boggy

Some cooks make shrimp creole using bell peppers and other fresh vegetables.