Red pesto is a sauce typically made with sundried, fresh, or charred tomatoes but sometimes with red peppers. Additional common ingredients include olive oil, pine nuts, and garlic. Some variations also call for basil leaves, balsamic vinegar, and a grated hard cheese like Parmesan. Red and green pestos are found throughout the world, although Genoa is believed to be where the green sauce originated. Red pesto made with tomatoes is thought to come from Sicily, where it is known as pesto alla siciliana.
Pesto is the Italian word for sauce and is traditionally made with a mortar and pestle, but food processors are often more convenient. The ingredients are ground or processed together until creamy before incorporating the cheese and a little olive oil. While the green version of the sauce likely originated in Genoa, the red tomato variation is believed to be from Sicily, while Calabria arguably invented pesto with red peppers.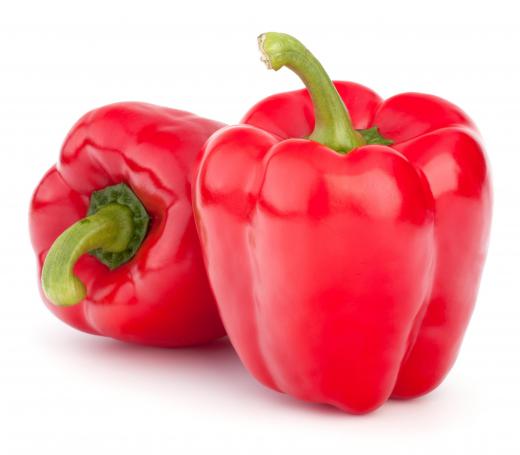 A traditional Genovese pesto is made with basil leaves that give the sauce its characteristic green color. A red pesto from Sicily or Calabria reduces or eliminates the basil leaves in favor of a red ingredient like sundried tomatoes or red peppers. Pesto is commonly served on a pasta-like trenette or penne, pizza, or sliced beef.
A typical recipe for red pesto from Sicily calls for sundried tomatoes. The tomatoes are combined with herbs like basil and parsley, chopped garlic, and chopped pine nuts or almonds. Parmesan cheese, olive oil, and salt to taste are additional common ingredients. Chopped onion, red wine, and balsamic vinegar are found in some variations. Rather than sundried tomatoes, a pesto made with charred tomatoes produces a deep red and almost purple-black sauce.
Another possible base for red pesto is red bell peppers. This version, also known as pesto alla calabrese, originated in Calabria. The peppers can be roasted in the oven or over a gas flame before being peeled and chopped. Using jarred roasted red peppers may be more convenient. The roasted peppers are usually blended with traditional pesto ingredients until a chunky sauce forms.
Non-Italian pestos can include a range of ingredient variations. Some variations eliminate pine nuts, while others replace basil with spinach or another kind of green vegetable. Cashews, walnuts, and almonds are common substitutes for pine nuts. Mushrooms, black olive, and lemon peel are additional alternate pesto flavorings.
This type of pesto can be made vegan by substituting or eliminating any ingredients like cheese that are derived from animals. Instead of cheese, additional pine nuts or another type of nut like walnut or cashew can be used. Some vegan red pestos will include miso paste because this adds saltiness that the cheese normally supplements.
AS FEATURED ON:
AS FEATURED ON:

By: Natika

Red bell peppers can be used as a base for red pesto.

By: Elenathewise

Parmesan cheese is sometimes used in red pesto sauce.

By: tpfeller

Red wine is used in some red pestos.

By: margo555

Red pesto sauces are usually made with extra virgin olive oil.

By: hitdelight

Red pesto can be made with chopped tomatoes, basil, garlic, and olive oil.