The name "pesto" comes from the same Latin root of "pestle," which is fitting as the sauce, in its simplest form, is made by crushing a few key ingredients together. There are two forms — pesto alla genovese and pesto alla siciliana— and they come from Genoa and Sicily, respectively. While these and other recipes can vary, most include basil.
Pesto alla genoese is made with garlic, salt, extra virgin olive oil, Pecorino Sardo cheese, and Genoese basil. It is important to note that Genoese basil is just one member of the large basil family. The recipe for the Sicilian version is similar, but with tomatoes and less basil. It is widely accepted that the Genoese recipe was the original.
This type of sauce, made with many different ingredients, have been part of Italian cuisines since Roman times. In addition to the two basic recipes, others include red bell peppers, sun dried tomatoes, pine nuts, walnuts, Parmesan cheese, and ricotta cheese. In fact, some sauces are made with arugula instead of basil.
Pesto is a very versatile sauce and can be used as a bruschetta topping, on pasta, on cooked meats, and even in soups. A lovely way to explore these sauces is to buy a few different kinds, and make a platter of bruschetta using each one.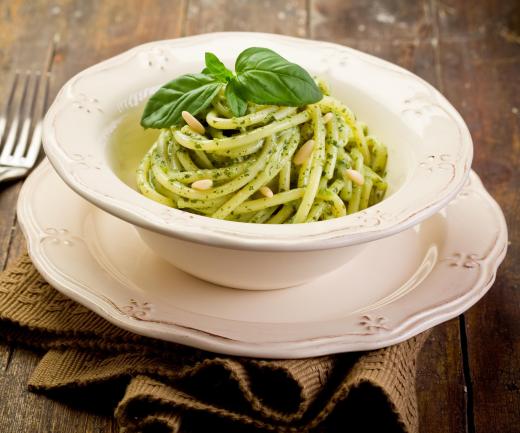 In general, basil is a hearty plant. People who live in a climate that favors these plants may quickly find themselves with a garden full of the aromatic herb. Most basil plants grow year after year and will increase in size if they are planted in nourishing soil. While the herb is delicious to eat fresh from the bush in salads or as a pasta topping, it can also be preserved in a sauce.
This very simple pesto sauce can be prepared, no matter how much fresh basil a cook has on hand:
4 parts fresh basil leaves
1 part Pecorino Sardo cheese
2 parts olive oil
1 part pine nuts
1 part minced fresh garlic
The cook can either mix the ingredients in a food processor or simply crush them together with a mortar and pestle. In order to preserve the sauce for as long as possible, a layer of olive oil should be added on top of the sauce once it has been placed in a jar. It can keep in then refrigerator this way for over a week and can be kept in the freezer for up to three months.
AS FEATURED ON:
AS FEATURED ON:

By: Studio Gi

Bowl of pesto with basil leaves.

By: Francesco83

Pesto pasta.

By: Natika

The primary ingredient in pesto are the leaves of the basil plant.

By: Barbara Pheby

Basil leaves are the primary ingredient in pesto.

Arugula can be used to make pesto.

By: Natika

Red bell peppers can be used as a base to make a red pesto.

By: mates

Walnuts are used in some pesto recipes.

By: Elenathewise

Parmesan cheese is sometimes used in place of Pecorino sardo in pesto sauce.

By: Schlierner

Garlic is often used in making pesto.

By: vvoe

Pesto alla siciliana comes from Sicily.

By: margo555

Olive oil is typically used to make pesto.

By: hitdelight

Chopped tomatoes can be added to basil and olive oil in a variation on traditional pesto.

Pesto is a versatile sauce that can be used to make soup.