Kulcha is an Indian flat bread, similar to naan, that is typically eaten with chole, a spicy chickpea dish. It is most popular in northern India, where it is usually eaten for breakfast or stuffed with different fillings for lunch or dinner. While easy to make, kulcha is best cooked in a clay oven.
It is traditionally made from a mix of maida flour, yogurt, baking soda, baking powder and salt. Once the dough is made, it is allowed to rest from two to four hours before being rolled into flat disks and baked in a clay oven. The reaction between the lactic acid in the yogurt and the baking soda allows the dough to rise without yeast. Once the kulcha is cooked, it is brushed with either butter or ghee, which is a clarified butter often used in Indian cooking.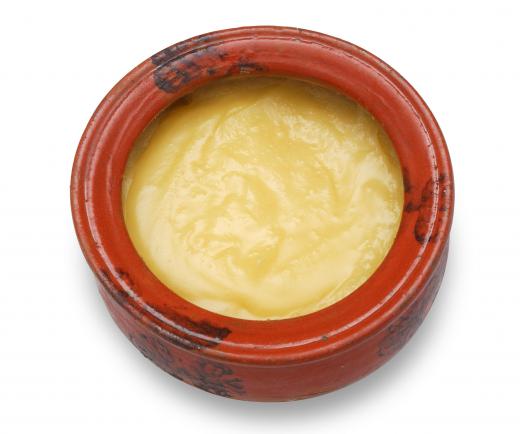 Although it is similar to naan in looks and flavor, kulcha is typically thicker and fluffier than naan. This is because of its use of yogurt and baking soda rather than yeast; yeast is the traditional way to make naan. Despite this difference, kulcha is technically a kind of naan, because "naan" simply means "bread." Socially, however, the word naan is used to refer to the flat bread served in most Indian homes and restaurants.
This flat bread can also be stuffed with several fillings before baking. The most common filling is mashed potatoes, which is known as Amritsari kulcha. It can also be stuffed with any type of meat or vegetables. For a slightly sweet desert, the dough can be mixed with raisins, nuts and a little bit of sugar. In northern India, it is also typical for the bread to have minced onions, as well as spices such as cumin and nigella seeds, added to the dough before baking. It is also common to add a little bit of curry powder to the dough.
While kulcha is known for being served with chole, it can also be served with any number of toppings. Cheeses, sauces, dips and even sandwich makings are often served on top of kulcha, especially at Indian fast food restaurants and street vendors. These different flavorings take it from a traditional breakfast dish to a quick and easy snack, lunch or dinner.
Kulcha, while not as well-known as other Indian breads, is a staple of northern Indian cuisine. It is relatively easy to prepare and can be found at dinner tables in both Indian homes and restaurants. Kulcha can be altered or topped with any number of ingredients, making it an extremely versatile bread.


Nigella sativa seeds, which are often included in kulcha naan.

By: Jehangir Hanafi

Ghee, which is used in making kulcha.

By: Colinda McKie

Yogurt is an ingredient in Kulcha.

By: Studio Gi

Kulcha is made using maida flour, an inexpensive flour made from wheat.

By: Bert Folsom

Baking soda is used in traditional preparations of kulcha.