Curry powder is a blend of spices which is designed to be used in Indian cooking. In India, cooks prefer to prepare their spices freshly, as needed, ensuring maximum flavor, but it is also possible to purchase packaged curry blends. In the West, curry powder blends are very common, with many cooks using them for convenience, as preparing one's own powder can be time consuming.
Indian cuisine is famous for featuring a wide array of spices, which varies by dish, region, and personal taste. When British colonists arrived in India, they were captivated by traditional Indian cuisine, particularly the flavorful khari, or "sauces" of Southern India. In a desire to bring some of India back with them, colonists started creating their own curry powder blends, adjusting them for Western tastes and often including a large amount of turmeric for a distinctive yellow color.
In India, such spice blends are known as masalas, and there are hundreds of them to choose from when cooking. The ingredients in a masala are ideally freshly ground and customized to the food being prepared, the occasion, and the time of year, and these spice blends are kept for no more than a month or so to ensure that the flavor stays fresh. Spices used in masalas can include things like: cardamom, nutmeg, mace, mustard seed, pepper, chilies, cinnamon, cloves, coriander, turmeric, cumin, fenugreek, and numerous other spices.
Curry powder also includes many of these spices, blended in a standardized mixture which is intended for use in any sort of dish. Some cooks may start with a base of curry and then add other spices to tweak the taste a little, while others simply use the curry straight. With a growing interest in traditional Indian food, several spice manufacturers have created an array of curry powders with different flavors, giving consumers some diversity.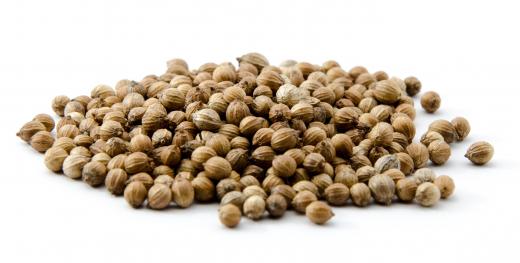 Curry powder can be mixed in with sauces, soups and stews, used in marinade, sprinkled on various dishes, and even whisked with things like eggs to add an Indian twist to Western foods. People who purchase tinned or jarred curry powder should plan on storing it in a cool, dry place and using it within a few months for the best flavor. It is also possible to mix your own masala, using a customized assortment of spices which should be toasted before grinding for best flavor; if you don't want to mix the spices every time you cook, make a small batch and keep it in an airtight container for up to two months.
AS FEATURED ON:
AS FEATURED ON:

By: zoë biggs

Curry powder is often flavored with coriander.

By: Elena Moiseeva

Curry powder.

By: areif

Curry powder spice blends typically include ground coriander.

By: Thomas Francois

Nutmeg is a popular addition to curry powder blends.

By: bergamont

Cloves are often used in curry powder.

By: jedi-master

Fenugreek is a popular ingredient in Indian dishes.

By: Tupungato

Curry powder is a blend of spices commonly used in Indian cooking.

By: Maris Kiselov

Curry powder is used in many Indian dishes.