Eggs Benedict is a classic American breakfast and brunch dish made of lightly toasted English muffin halves covered with broiled Canadian bacon or ham and poached eggs. A dollop of hollandaise sauce adds the finishing touch to this yummy morning meal. There are several different stories explaining the origin of this popular specialty dish.
One historical account states that Eggs Benedict was invented at the Delmonico's Restaurant in Manhattan, New York, in the 1860s. Regular patrons Mr. And Mrs. LeGrand Benedict wanted to try something new and discussed several options with the Delmonico's chef, Charles Ranhofer. At Mrs. Benedict's suggestion, Chef Ranhofer prepared her a dish that featured poached eggs on toasted English muffins. He topped the eggs with a thin slice of ham, a little bit of hollandaise sauce and a truffle. Chef Ranhofer called this recipe "Eggs a' la Benedick" in his 1894 cookbook, The Epicurean.
Another version gives credit for the creation of Eggs Benedict to Mr. Lemuel Benedict, a Wall Street broker who lived in New York, NY, in 1894. Apparently while searching for a fast cure for his horrible hangover, Lemuel Benedict wandered into the restaurant at the new Waldorf-Austoria Hotel and ordered buttered toast topped with crisp bacon, a poached egg and a dab of hollandaise sauce. The Waldorf's chef at that time, the legendary Oscar Tschirky, was thrilled with this new breakfast dish idea. Chef Tschirky played with the recipe, and finally decided to replace the crisp bacon with Canadian bacon and substituted English muffins for the toasted bread. He liked his creation so much that he featured Eggs Benedict on his breakfast and brunch menus.
Although we will never know which version is true, Eggs Benedict turned out to be a popular and sophisticated dish. Many different Eggs Benedict recipes started showing up in cookbooks across the nation. An easy Eggs Benedict dish requires simply cutting English muffins into halves and toasting them until they are light brown. A piece of grilled Canadian bacon or ham is then placed on the English muffins. Then a little hollandaise sauce is dabbed on top.
There are numerous variations on the traditional Eggs Benedict dish. The most common variant is Eggs Florentine, which replaces the meat with spinach. Eggs Florentine is often offered in restaurants as an alternate entrée for ovo-lacto vegetarians.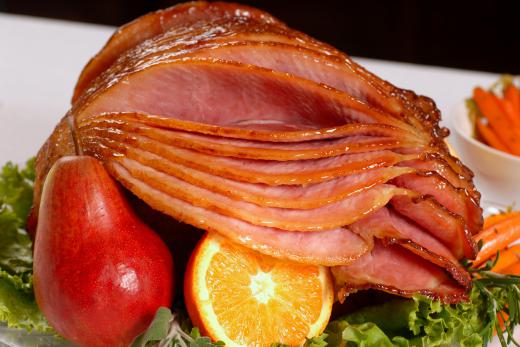 Seafood Benedict, another popular variation, replaces the ham or bacon with shrimp, crab, baby scallops or lobster. Salmon Benedict, sometimes called Eggs Royale, substitutes the ham with smoked salmon. A similar recipe is Pacific Northwest Eggs Benedict, which uses Wild Alaskan Smoked Salmon and replaces the English muffins with crab cakes.
Eggs Benedict even inspired one of the most popular fast-food breakfasts of all times. Back in 1972, Herb Peterson, a friend of Ray Kroc, the founder of McDonald's fast food restaurants, sought to create a "poor man's version" of Kroc's favorite breakfast dish. Peterson simply replaced the hollandaise sauce with a slice of American cheese and called his dish the Egg McMuffin. It was primarily due to the popularity of the Egg McMuffin that McDonald's had a monopoly on the fast-food breakfast market until the mid-1980s.


By: Viktor

Bacon is sometimes substituted for the ham on Eggs Benedict.

Eggs Benedict is often served with black truffles.

By: robert lerich

Sliced Canadian bacon, which is sometimes served with eggs Benedict.

By: David Smith

Ham is used to make the traditional form of Eggs Benedict.

By: PhotoEd

Salmon Benedict, or Eggs Royale, substitutes smoked salmon for the ham.

By: anjelagr

Eggs Florentine has spinach instead of meat.

By: WavebreakmediaMicro

Eggs benedict may have originally been created to cure a hangover.