What is Divorce Litigation?
Divorce litigation refers to a legal action that occurs when two parties want to get a divorce and cannot agree on the terms of the divorce. Some type of divorce litigation occurs in every country that recognizes divorce. Certain countries, such as the Philippines, do not recognize divorces at all, and thus no divorce litigation exists.
When divorce litigation is permitted within a country, the divorce cases are usually handled by a family court. This is a court of limited jurisdiction that handles only family law cases, as opposed to criminal or civil cases. These courts specialize in dealing with divorce-related matters and can give more time and attention to a divorce case than a standard court could, due to the backlog of cases and the need for swift justice.
Litigation in the event of a divorce occurs if the divorcing spouses cannot come to a settlement agreement on their own. If the divorcing spouses can negotiate an agreement, no litigation need occur. The divorce lawyers simply draft the agreement, the court reviews and approves it, and the divorce is finalized by the court.
If the parties cannot agree on issues such as alimony, which refers to spousal support, child custody, or the distribution of property, litigation often arises so the court can settle the issues. During litigation, both spouses present evidence, which may be in the form of witnesses, testimony, or financial documents. The court considers the evidence to make a determination on the contested matters.
Divorce litigation is generally more expensive than settling a divorce without taking it to court, since the parties incur greater legal fees and court costs. When possible, many individuals try to avoid litigation by working with arbitrators or mediators who aim to facilitate a settlement by helping the parties discuss their desires and compromise. Litigation, however, is sometimes unavoidable.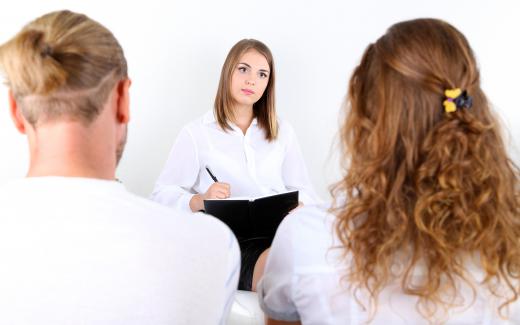 The court will look at many factors in determining the outcome of issues in a divorce case. The reason for the divorce is one such factor, as are the respective situations of both parties. Generally, when it comes to child custody, the interests of the child are held paramount while alimony determinations are normally made based on the spouses' respective incomes and the career sacrifices they made with respect to the marriage. Issues as far as division of property are made based on the property law rules within the jurisdiction.


By: zimmytws

Issues such as alimony, child custody and division of property are addressed during divorce litigation.

By: danmorgan12

A child's interests are usually the most important thing in a divorce litigation.

By: olly

Divorce litigation occurs when a couple is unable to come to a settlement agreement on their own.

By: Africa Studio

Divorce mediators can help the divorcing parties avoid formal litigation in many cases.

By: DragonImages

Litigation may be initiated if the spouses cannot come to a mutually agreed decision on child custody or other critical issues.

By: Bryan Creely

Some divorcing couples are more interested in placing blame than settling disagreements, which often leads to litigation.

By: Martinan

Couples who cannot communicate often end up depending on litigation to reach a settlement.

By: Pavel Losevsky

The custodial rights of couples who have children are often determined during divorce litigation.