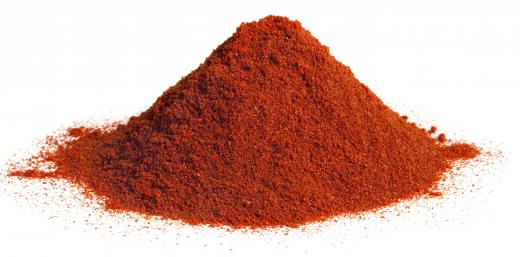 Also known as dahipuri, dahi puri is an Indian snack food frequently sold by street vendors. The savory street food, or chaat, is a small fried puff of flat bread filled with yogurt and a combination of vegetables and spices. The treat is sometimes served in restaurants, and is a popular party food, particularly in the Indian state of Maharashtra.
Unlike the favorite Indian food pani puri, dahi puri is less intense in flavor, with fewer spices. Because of this, it is a popular food with children and those with weaker stomachs. A typical serving of dahi puri includes five to six puffs artfully arranged atop a garnishment of the cook's choice. Since they include a mix of yogurt, they are not typically served with a dipping sauce. Dahi puri is usually the last dish eaten during a street food meal.
Dahi puri is conveniently easy to prepare and may be assembled prior to a party for simple assembly and cooking. Many Indian households keep curds or plain yogurt on hand as a staple, making this dish even more accessible to the household cook. As with most other chaat foods, the base of the treat is first prepared with yogurt mixed with sugar. The yogurt should be of a uniform consistency, without being too thin or thick for the best results.
Cooks place a small hole in the top of each puri, or round flat bread. This creates the hollow puff to be filled with the rest of the ingredients. Small amounts of boiled potatoes, chickpeas, and other foods are then added and topped with the sweet yogurt, or curd. Sweet chutney is commonly added, as is green chutney. Vegetables, such as tomatoes or onions, are then added as desired.
A wide variety of spices may be added as desired. Chaat masala, a popular herbal blend used to flavor fast foods in India, is usually used to either garnish the puffs or to flavor them along with the rest of the stuffing. Some of the herbs found within chaat masala include ginger, coriander, and cumin. Many other spices, such as chili powder and asafetida, are also typically included. Salt and pepper are added as well.
To make an aesthetically pleasing dahi puri, many cooks place crushed sev, or crunchy graham flour, and fresh coriander leaves beneath the puffed flat bread prior to serving. Some also include moong dal, or mung beans, as a garnish. Many of the interior ingredients, such as the curd and chutney, are commonly used to garnish the dish as well.


Chili powder is often added to dahi puri.

By: Colinda McKie

Yogurt makes up the filling of dahi puri.

By: Monkey Business

Dahi puri can be eaten for dessert after a meal of dal.

By: Igor Dutina

The spices in Indian dahi puri often include cumin and chili powder.

By: photonaka

Dahi puri is just one of the many street foods sold at outdoor markets throughout India.