Cha gio (pronounced "chai yaw") are often called egg rolls. A traditional Vietnamese dish enjoyed in restaurants and more often, in Vietnamese homes, it is crispy and crunchy. Although many people compare cha gio to an eggroll, there are actually few similarities. Both have filling in a wrapper and both are cylindrical. However, eggrolls are typically larger in size and known for being hearty appetizers. Cha gio is light and crispy, typically smaller in size or cut into bite sized pieces, and served as a main course or an appetizer.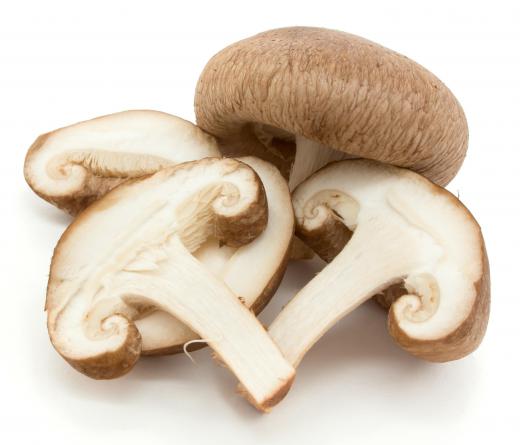 The filling in cha gio is usually made from a mixture of ground pork and crab meat. Shredded carrots, minced garlic, fish sauce, chopped onion, cellophane noodles and sliced mushrooms are also added. The filling is placed on rice paper wrappers, rolled, deep fried in hot oil, then served immediately.
As an appetizer, cha gio is usually chopped into bite sized pieces, and served with nuoc mam — a Vietnamese dipping sauce made of fish sauce, sugar, carrots, garlic, chilies and lime juice.
As a main course, cha gio can be served whole, accompanied by plates of fresh vegetables, such as Boston lettuce leaves, cucumber slices, bean sprouts and cold vermicelli noodles. To eat cha gio this way, a lettuce leaf is used as a cup to hold small amounts of the accompanying noodles and vegetables. A roll is placed in the center, and the lettuce leaf is wrapped tightly around the contents.
Cha gio is also featured in cold noodle dishes, such as bun cha gio. This is cooked vermicelli noodles which have been rinsed cold, and topped with a variety of fresh herbs and vegetables. The cha gio is chopped into pieces and served with the noodles. Chopped peanuts typically garnish the dish and nuoc mam is usually served as a dipping sauce.
Cha gio is a popular dish enjoyed year round in Vietnam and especially during the holidays. In celebration of Tet, the Lunar New Year, Vietnamese families team up to make piles and piles of cha gio.
Because cha gio can be labor intensive to make, it's good to know that they can also be frozen. If you are going to make cha gio at home, you can make a large batch to eat in the future. Fry the cha gio for a minute or two, then place it in an air tight container and freeze. If frozen properly, cha gio can keep for up to several weeks in the freezer. When ready to use, simply allow the cha gio to come to room temperature and remove any excess moisture. Finish frying the cha gio again and serve immediately.

By: rafcha

Bean sprouts, which are often included in cha gio.

By: Chris leachman

Shiitake mushrooms are a common ingredient in cha gio.

By: Bert Folsom

Cha gio contains minced garlic.

By: Michael Gray

Cha gio is another name for spring rolls.

By: Jose Gil

Vietnamese cha gio typically use a lighter wrapper than Chinese egg rolls.

By: michaklootwijk

Egg rolls are wrapped in delicate rice paper.