Butter chicken is a dish of Indian cuisine that has become popular around the world. In India, this main dish is called murgh makhani. Boneless, skinless, marinated chicken pieces are browned before being combined with a richly flavored tomato and yogurt sauce. The name refers to the melted butter poured over the chicken dish before serving. Butter chicken may be served with naan bread or steamed rice and black lentils called kaali daal.
As with many international recipes, cooks tend to adjust the ingredients in keeping with what is readily available, as well as to their own preferences. Some cooks prefer to make this dish with boneless chicken breasts, while others may use thighs. The amount of heat from spices such as chili powder is another adjustment that cooks often make when preparing butter chicken. Common spices added to this dish other than chili powder include bay leaf, curry, cinnamon, cardamom, cloves, ginger, fenugreek and coriander.
To begin the dish, skinless, boneless chicken pieces are marinated for at least an hour in the refrigerator. The marinade may include lime juice, garlic and other flavorings. Next, the chicken is browned by roasting, grilling or frying. Chopped onions may be sauteed in cooking oil in a frying pan before tomatoes are added. Some cooks like to use canned tomatoes and tomato paste, while for others, only the fresh vegetable will do. As the onions and tomatoes simmer, spices are mixed in to create a wonderful flavor as well as aroma.
The sauce becomes reduced in volume as it simmers and is stirred, making it rich and flavorful. Yogurt makes the sauce creamy and smooth. Almond butter or cashew paste is often added to this butter chicken sauce to get it to the desired consistency. These products are much like peanut butter and thicken the sauce as well as add a nutty flavor to the dish. Once the sauce and chicken are arranged in the pan ready to serve, melted butter is poured over the top.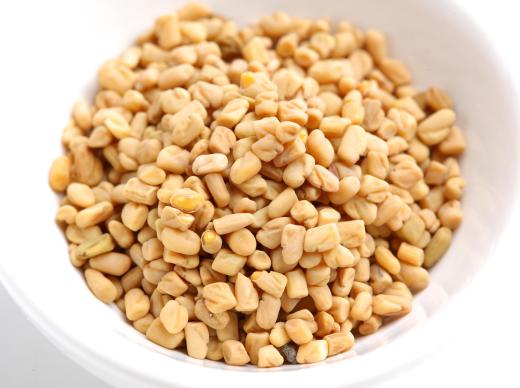 Butter chicken is not the same as makhanwalla, or what the British named tikka masala. Chicken makhanwalla or tikka masala has a similar creamy tomato sauce. Yet, the chicken is sauteed in butter rather than having it poured over the dish before serving. Also, the spices tend to differ at least somewhat with garam masala and cumin seed most commonly used.
AS FEATURED ON:
AS FEATURED ON:

By: zoë biggs

Butter chicken is often flavored with coriander.

By: Multiart

Butter.

By: jedi-master

Fenugreek is a spice used in cooking and a dietary supplements.

By: Christian Jung

Chicken breasts are high in protein.

By: Viktor Lugovskoy

Butter chicken may be served with steamed rice.

By: Viktor

Boneless chicken can be marinated before cooking.

By: Lsantilli

Murgh makhani is a buttery, flavorful chicken dish of Indian cuisine.

By: JJAVA

The name of the dish is derived from the fact that melted butter is poured on top just before serving.

By: lidante

Butter chicken is made with yogurt, spices, and herbs.