An oral syringe is used to dispense liquid medicine into the mouth. It's made up of three main parts: a straw like stopper, the barrel or body and the plunger; some oral syringes also have a cap that fits on the tip of the barrel. An oral syringe has measurement markings on its barrel. It looks almost identical to a hypodermic syringe used to inject medicine under the skin, but uses no needle. Instead, oral syringes have an opening that allows liquid medications to be dispensed into the mouth.
Oral syringes are most often used to administer liquid medicine to babies, children and pets. Pills may be spat out, choked on or chewed rather than swallowed. Placing the oral medication on a spoon is another option, but when this method is used, it's easy for the medicine to be spilled. An oral syringe contains and directs liquid medicine much better than a spoon.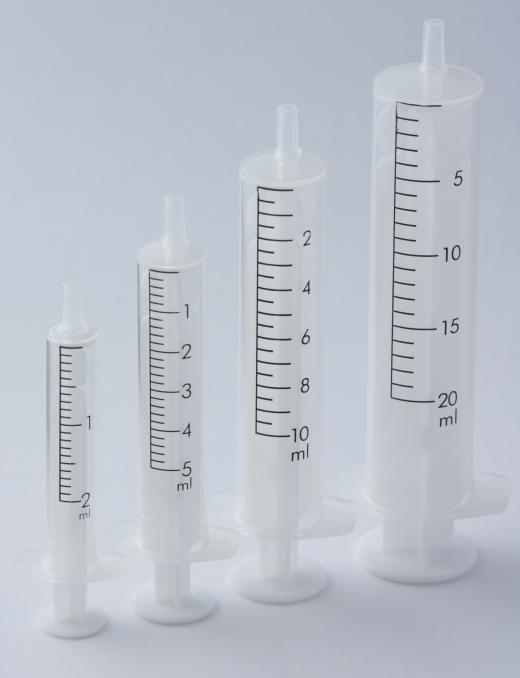 To administer oral medication, the stopper is pushed into the top of the medicine bottle. The end of the oral syringe is then placed into the end of the stopper. When the bottle of liquid medication is turned upside down, the plunger is pulled back to allow the medicine to fill the syringe. The dosage amount dictates how much the plunger is pulled back.
The medicine bottle is then turned right side up and the oral syringe removed by holding the barrel. The dose of liquid medication is ready to administer by pressing down on the plunger. It's important to direct the tip of the syringe toward the cheek rather than the back of the mouth or down the throat. Otherwise, the person or pet may choke.
An oral syringe should be washed in warm water after use and left to air dry completely. Making sure to administer the correct dosage is crucial when using oral syringes. Since the syringe's measurement markings may be easily misread by the person administering the medicine, especially when the plunger is being pulled to the dosage amount, it's a good idea to use a marking pen to indicate the correct filling line. A pharmacist will usually do this for customers when filling their prescriptions for oral medication.
AS FEATURED ON:
AS FEATURED ON:

By: Maynard Case

An oral syringe contains and directs liquid much better than a spoon.

By: Rachakrit

An oral syringe is recommended for giving exact dosages of liquid medications to young children and babies.

By: Darren Baker

Doctors may recommend giving prescription antibiotics to children using an oral syringe.

By: HconQ

A pharmacist can set up and explain how to use an oral syringe.