What is a Wedding Caterer?
A wedding caterer is a professional who specializes in providing food and drink for the receptions that traditionally follow matrimonial ceremonies. He may specialize in specific cuisines or venues or serve the needs and tastes of a wide cross section of clients. The caterer may work independently or have a staff that supports him. Some wedding caterers only contract to serve small groups, and others have no limit on the number of guests for whom they can successfully provide service.
What distinguishes a wedding caterer from a general caterer is typically the range of menu items and choices of extra amenities. A general caterer often has a limited menu and relies upon his clients to dictate themes and decorations, the latter two of which he may not be equipped to provide. A wedding caterer frequently listens to the needs of potential customers and arranges to do whatever he can to accommodate them.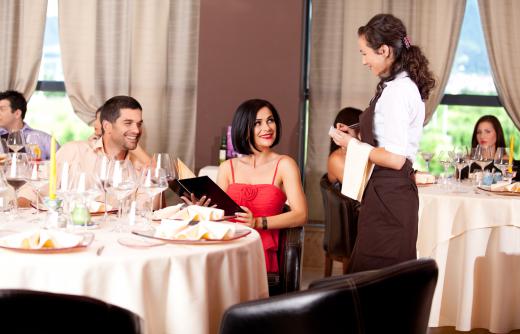 Diplomacy is normally considered a great asset for a wedding caterer. If a couple chooses favorite food items that would be unpleasant to the palate when combined in the same meal, a wedding caterer is generally expected to gently steer them toward more compatible selections. Along those same lines, he may often be required to kindly explain that the prospective couple's budget cannot bear the financial burden of a high-end sit-down affair for the number of guests on their list.
Tasting sessions are ordinarily part of a wedding caterer's job. After the food and cake choices have been narrowed down to a select few, he traditionally asks the betrothed pair to taste each item and make final choices. This session often includes the couple also finalizing their choices of centerpieces, guest mementos and table settings.
Engaged couples frequently change their minds on reception food and beverage choices, and pre-wedding anxiety often results in disagreements. The caterer is ordinarily expected to set deadlines on when these final choices must be made. He is generally expected to tactfully enforce them with patience and understanding.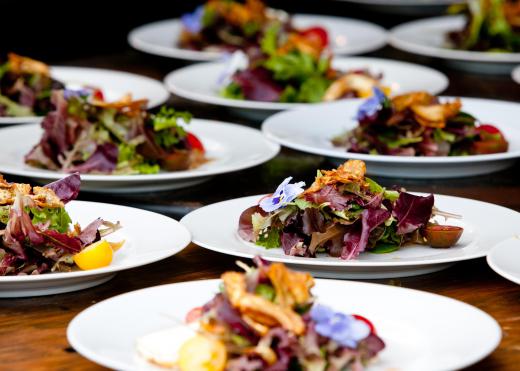 Having a solid contract with his customers is usually tantamount to the success of a wedding caterer. The agreement is typically expected to clearly spell out terms regarding fees for cancellations, extra guests, wine corking and cake cutting. Each agreed upon food and beverage item should be clearly listed in the contract, with prices for each.
To be a wedding caterer requires no specific education. People in this profession normally have background and experience in food preparation and service. To flourish in this job ordinarily requires a list of satisfied customers to use as referrals. The testimony of these satisfied clients is generally considered the best tool to achieve success in this career.
AS FEATURED ON:
AS FEATURED ON:

By: shotsstudio

Caterers may be contracted to provide entire meals and a serving staff for a wedding reception.

By: gzorgz

A wedding caterer may not only be tasked with the appetizers and entrees for the big day, but also may provide the wedding cake.

By: Eric Limon

A wedding caterer is a professional who specializes in providing food and drink for the receptions that traditionally follow matrimonial ceremonies.

By: Kzenon

Wedding caterers often have tasting sessions with the bride and groom to help narrow down menu offerings.