A hotel caterer is someone who manages catering and event services for a hotel. Typically, the hotel caterer is supported by a large staff which includes numerous assistants who help catering tasks run smoothly. Many people in hotel catering positions have received catering training through a trade school, although some have worked their way up in the ranks of the catering industry to arrive at supervisory positions. This type of work requires a very high degree of attention to detail along with the ability to manage a variety of tasks simultaneously.
Many large hotels have a facility for functions, and some have a catering staff which manages the facility. When people wish to hold events at the hotel, they work with the hotel caterer to develop the planning for the event. This can range from a wedding reception to a business workshop. Every detail of the planning is supervised and managed by the caterer, and the caterer can also bring in contract workers for different aspects of the function.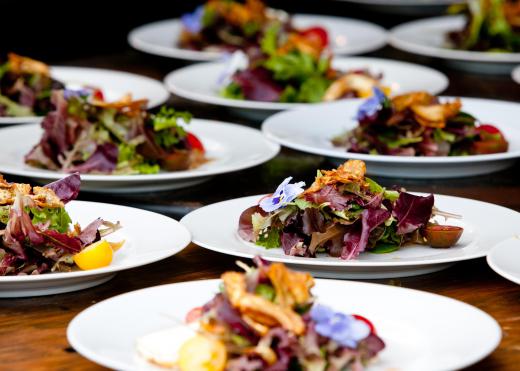 The hotel caterer takes care of seating, place settings, food, floral arrangements, lighting, sound systems, and any other requirements which need to be met. Hotel caterers may also handle general food services for the hotel. This can include the catering menu with room service options for hotel guests, along with menus for pool side service and bar service, and it can also include supervising the hotel dining room.
Some hotels are capable of hosting multiple events at once, which can put heavy demands on the catering staff because the staff members must be able to coordinate to make all of the events run smoothly. Even if a hotel only has one event area, a hotel caterer is often in the process of planning multiple events at once. Computer software is often used to assist with planning and management so that no details are neglected.
Skilled caterers enjoy working with food and are often competent cooks, even if they do not personally cook for events. They are also good at public relations and feel comfortable working with people and meeting their needs. People are often very concerned about events, especially major events like weddings, and the caterer is an important point person who must be able to address worries at various planning stages. Having a passion for organizing can also be very important for someone who works as a hotel caterer, and it's also important to be able to supervise and coordinate numerous employees and contractors.
AS FEATURED ON:
AS FEATURED ON:

By: Eric Limon

Skilled caterers enjoy working with food and are often competent cooks, even if they do not personally cook for events.

By: Kzenon

Hotel caterers assist in planning for on-site events like weddings and wedding-related events.

By: lester120

Hotel caterers may go to culinary school.

By: malexeum

Hotel caterers may be hired to provide food for events at hotels.