A state prison is a facility operated by a state and used to house and rehabilitate criminals. There are both minimum and maximum security prisons which are divided based on the nature of the crimes committed by inmates at the institutions. Those who have committed a violent crime or killed someone are likely housed in a maximum security state prison where armed guards and heavy security measures are taken.
In most cases, the state prison is funded by state tax dollars. Money is used to feed and clothe inmates as well as to hire employees to keep the prison running. Inmates are generally held in locked cells during the day and may be given privileges such as TV use and phone calls in other areas of the building. The number of privileges allowed depends on the prison.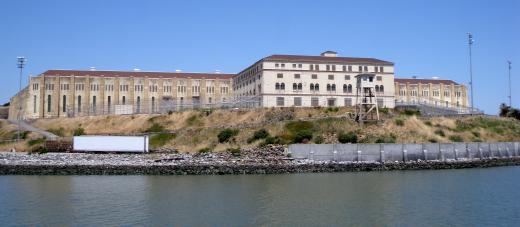 The main goals of a state prison are to keep criminals away from society so that they can do not further harm to innocent people and to rehabilitate them so that they can become productive members of society. Many state prisons are underfunded, however, and they are often not effective at offering rehabilitation services to inmates. In fact, a high percentage of prisoners will at some point return to prison in their lifetimes. Sometimes, though, prisons offer counseling services and educational opportunities for inmates in order to make handling issues easier once they are released.
Rehabilitation is the main goal in a state prison where non-violent inmates are housed, but in a maximum security prison, many inmates are locked up for years at a time. Some are even there for life. This means that the main goal of a maximum security prison is to provide a place for violent criminals to live separately from the rest of society. These prisons can often become violent places, and crime is often rampant.
There is much debate on the need for more funding for many state prison institutions. Some say that prisoners should not be given perks like Internet service and TV, while others argue that more funding would allow greater counseling and individualized services to inmates to help them resolve issues and become better people. This would allow them to function in society and become successful in their everyday lives. Both sides of the debate have valid points which should be considered.
Many times, a state prison resides away from the surrounding cities and is often isolated. Walls often surround prison buildings and are often armed with barbed wire, electricity, or both. The size and overall appearance of each prison varies depending on funds available and the number of inmates being held.
AS FEATURED ON:
AS FEATURED ON:

By: Eric BVD

San Quentin State Prison in California.

By: maxriesgo

Prison walls are often armed with barbed wire and electricity.

By: Tracy King

Inmates in state prisons are held in locked cells for the majority of each day.

By: Lsantilli

A maximum security state prison has armed guards and heavy security measures.

By: BortN66

There is much debate on the need for more funding for many state prison institutions.