What is a Federal Prison?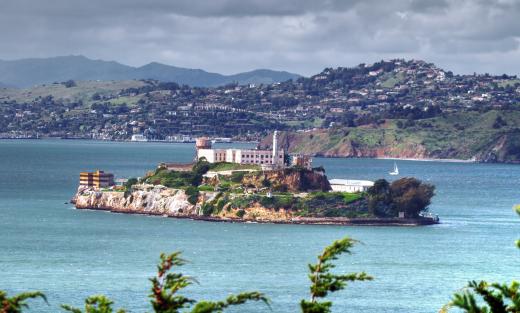 A prison is a facility for the confinement and detention of individuals who have been convicted of a crime and sentenced to serve a prison term. A federal prison is such a facility that is operated and managed by the federal government. Federal prisons normally house inmates who have been convicted of a crime in violation of a federal statute, as opposed to state or local laws. In some instances, a federal prison will be used to detain persons awaiting trial for immigration or customs issues.
Federal prisons are administered by the Federal Bureau of Prisons (FBOP), a division of the United States Department of Justice. The FBOP operates prisons at various levels of security. These security levels are known as minimum, low, medium, high, and administrative. Some of the criteria used to determine the security level of a federal prison are the types of containment barriers in use, inmate-to-staff ratio, and types of housing used for the inmates' confinement. Internal security devices and procedures, as well as the number of external patrols and watch towers, also play a part in the classification.
The FBOP was established in 1930 and maintains facilities in all regions of the United States. The majority of federal prisons in operation are under the direct management of the FBOP. In some cases, however, management of a federal prison is contracted to a private prison management firm. In such a facility, the daily administration of the prison is directed by the contracting company, yet the FBOP retains direct oversight of the operations.
The primary function of a federal prison is to confine prisoners for the duration of the detainee's sentence. In addition to confinement, the FBOP has established a goal of reforming inmates. This is to ensure the individual is ready to return to society in a law abiding capacity once the sentence has been completed. Reform plans are intended to prevent inmates from returning to prison once they have gained their freedom. Reform measures include education and job skills training.
It is possible that a federal criminal case might result in a death penalty being handed down against the defendant. In such cases, the FBOP bears the responsibility of carrying out the federally mandated execution. Such executions usually take place at the federal prison located in Terre Haute, Indiana.
There have been many well-known federal prisons. Among the more famous are the U.S. Penitentiary at Leavenworth, Kansas and the Atlanta Federal Penitentiary in Atlanta, Georgia. Possibly the most well known federal prison was that of Alcatraz, located in the San Francisco Bay, which is no longer functional and no serves as a tourist attraction.


Alcatraz, a prison on an island in San Francisco Bay that has been closed since 1963.

By: altanaka

Federal prisons operate at different levels of security.

By: angelo.gi

Inmates at a federal prison have usually committed a crime in violation of a federal statute.

By: Marc Roche

A federal criminal case might result in the death penalty being handed down to a defendant.