What is a Property Manager?
A property manager is an entity who looks after a property, in exchange for either financial compensation or a residence. Most owners employ a property manager if they are unable to look after a property themselves, or if they own a number of properties as investments, and do not wish to spend the time themselves dealing with renters or leasers, and keeping up with maintenance. There are also firms that act as a property manager, generally for a large portfolio of properties, centralizing all of the responsibilities and thereby keeping costs low.
For properties that have a person acting as a property manager, the manager will likely take care of all of the responsibilities traditionally looked after by a landlord. Daily interactions would take place between the tenants and the property manager, with the owner only interceding if it became absolutely necessary. The property manager, for example, would look after the grounds upkeep, landscaping, repairing problems with tenants' spaces or the common spaces, cleaning of common spaces, and any improvements the owner decides they want.
Additionally, a property manager may also be expected to handle the financial side of the property as well, with the owner really serving only as the capital responsible for owning the property. In this case, the property manager will likely handle rents, including getting delinquent rents from tenants. They may also pay expenses from a common account or fund, and may handle the taxes for the property or properties they are in charge of.
A property manager may also be hired on to look after a single residence that a person occupies only occasionally. In this case, the property manager is responsible for keeping the property in a state of readiness so that when the owner comes to stay it is suitable for them. This would likely entail keeping the residence clean, the grounds kept up, and all appliances and electronics in working order. It might also include keeping support staff paid and happy, keeping a kitchen or wine cellar stocked, and preparing the residence with fresh linens and supplies when the owners are returning.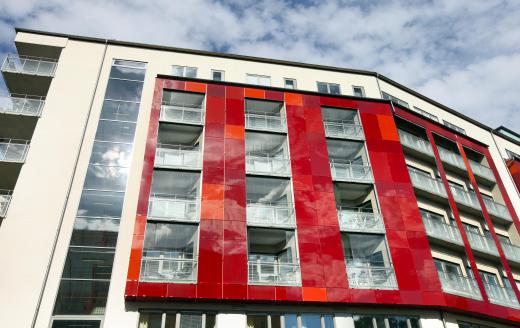 In exchange for their services, a property manager may be paid in a number of ways. In some situations, a property manager may receive a commission based on the income the property generates. So as rents go up, their pay goes up, and when residences are unoccupied, their pay diminishes, giving them an incentive to keep the properties occupied at all times, and to make sure that people pay on time. A property manager may also be paid a flat fee, either for an entire property complex, or for each residence as it is occupied. Lastly, a property manager may be compensated in the form of a free residence, also accompanying a slightly smaller salary or other form of financial compensation.
Ultimately, the property manager acts as the liaison between the owners and the tenants of a property. As such, their responsibilities are as great, if not greater, than that of an owner. Tenants generally expect all of the same things from a property manager that they would from an owner, and owners expect a great deal from a property manager as well.
AS FEATURED ON:
AS FEATURED ON:

By: Sergey Mostovoy

Property managers should be notified of vandalism so they can take steps to repair the damage.

By: lightwavemedia

Property managers often need basic handyman skills.

By: Mikael Damkier

Most owners employ a property manager if they are unable to look after a property themselves.

By: slavun

A property manager charged with looking after a single residence may be tasked with jobs like ensuring the wine cellar is amply stocked.

By: goodluz

Some property managers may also handle many of the administrative tasks for property owners.

By: Syda Productions

Property managers are typically responsible for collecting rents and handling eviction procedures.