What is a Pre-Qualification?
A pre-qualification is a method that financial officers or loan officers use to determine if a consumer is credit worthy based on certain personal finance qualifying characteristics. This can include pre-qualification for loans to make small or large purchases, loans to make home improvements, loans to start a business, or loans for consolidating debts. A pre-qualification process generally begins with a consumer initiating an application for credit and providing detailed information about tangible assets, credit, and financial history.
Pre-qualification is not to be confused with the term pre-approval, which is based on certain tangible assets such as property owned or cash, in addition to low risk factors associated with debt and credit history. A pre-approval simply means that someone is automatically eligible for credit of some form based on status such as being a home owner or meeting some other eligible criteria. Pre-qualifications consist of having to meet certain criteria in order to be eligible, so credit is not automatically guaranteed or implied.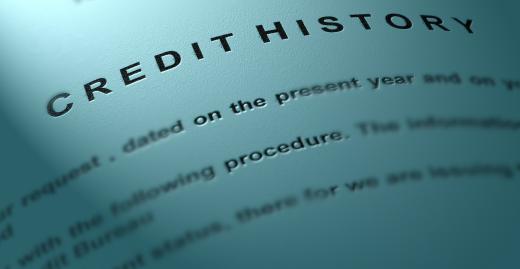 In order to be pre-qualified, the consumer generally begins the process by contacting a bank or financial institution to initiate the credit application. This can take place in person, by telephone, or over the Internet. The consumer provides information about his personal financial history, work history, credit history, personal assets, and intention for the loan amount. This information is then evaluated by the credit manager to determine if the consumer meets the initial guidelines for credit worthiness, based on the amount of risk associated with providing money to the consumer.
It's important to note that a pre-qualification process does not bind or obligate the financial institution to lend funds to the consumer. Rather, it provides the consumer with the opportunity to initiate the credit application further by giving the financial institution legal permission to investigate the work background, income, bank records, credit rating, and other financial history of the consumer further. Once the consumer signs the pre-qualification forms, the bank, lender, or mortgage company has the right to do a full background search to determine the actual credit risk that the consumer may impose.
Anytime during the pre-qualification process, the consumer has the right to change his mind about accepting credit from the lender. It is often the case that consumers shop around with local banks and credit companies to find the lowest repayment interest rates and the fastest route to the funds that are needed. With this in mind, many financial institutions use the pre-qualification process to try to get the consumer to commit to using the services provided by processing the credit application quickly and offering the best rates. The consumer gets an estimate of how much credit can be extended, for how long, and what the average monthly payments will be during this time, which can be the deciding factor.
AS FEATURED ON:
AS FEATURED ON:

By: karam miri

The pre-qualification process may begin with a consumer providing information to a lending institution about their credit history.

By: itsallgood

A pre-approval simply means that someone is automatically eligible for credit of some form based on status such as being a home owner.

By: saiyood

Many cash advance companies do not require individuals to have perfect credit and some do not require applicants to have any credit history at all.

By: puhhha

Pre-qualification involves contacting a financial institution to initiate a credit application.