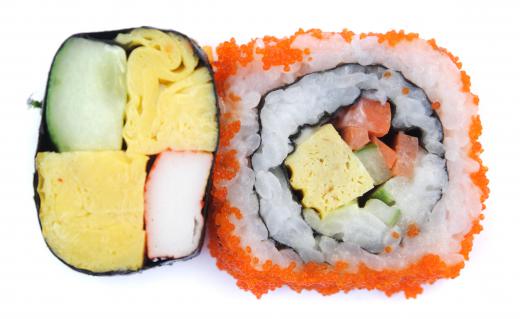 A makisu is a mat used in Japanese cooking that is made out of thin bamboo slats held together with sturdy thread. Anyone who has ever sat at a sushi bar and watched the chefs make maki, which is a kind of sushi in which rice and fish are rolled within a seaweed casing, has seen a makisu. Sushi chefs use these mats to roll various kinds of sushi, even those that are made with the rice on the outside of the roll. In addition to being used to make rolls of sushi, a makisu can also be used to shape other malleable foods. In some cases, a makisu is used to squeeze water or liquid out of food.
There are some cases in which a makisu must be lined with plastic wrap before it is used. This is especially true when it is used to make the kind of sushi rolls that have rice on the outside of the rolls. Using plastic on the makisu keeps the rice grains from mashing between the bamboo slats, which makes the mat rather hard to clean. There are some people that line the mat with plastic wrap every time they use it simply to make the cleaning process easier. In cases when plastic wrap is not used, it is important to wash and dry the mat thoroughly after each use to keep bacteria from developing and growing on and between the wooden slats.
There are a few makisu models. Most of them are rather similar in size, but there are differences in width of the bamboo slats that are woven together to create the mats. When shopping in kitchen supply stores and home supply stores in the West, it is most common to find mats that are made with thinner slats. In general, makisu are very inexpensive, no matter how thick the bamboo slats may be.
Makisu are sold separately and as parts of sushi-making kits. These kits are useful for people who are just begging to attempt to make their own sushi at home. Single makisu can be purchased for just a few United States dollars. There are some more expensive models that are made out of silicone instead of wood.


By: nalineimages

Makisu is used in sushi making.

By: Bartlomiej Nowak

Makisu is a Japanese cooking mat commonly used to roll sushi.

By: T.Tulik

Uramaki is a type of rolled sushi in which the rice is on the outside.